Tips that pay off: Save on everything — time, money and even happiness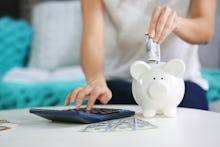 Think you've got your budget nailed down, yet you're still stressed and pinching pennies? We've got the tips and tricks you need to not just save cash, but also all those things money can't buy: like time and sanity.
Though the weather may not have gotten with the program, we are in fact getting closer and closer to summer. What better way to count down the days than to start planning for vacation. We're here to help you stop sweating trip savings and start sweating because you're luxuriating on the beach. We interviewed experts and combed the web for the very best tips, tricks and apps to save you tons of cash on flights, cars and lodging this summer. Here are our hacks to help get you there for cheaper and not break the bank once you get there.
Imagine a world where a sock is never missing its mate. Where you don't have to dig through stacks of paper to find that one document you need. A life where you never trip over a stray shoe. Beautiful, right? That world is yours to make with these nine steps to simplify your life — and save money. The added bonus is you get to snack on all those items hanging out in your pantry while you do it.
With your vacation planned and space decluttered, you should have more energy to work on saving yourself some stress. Do you feel daily dread about work? Or maybe each week starts well enough, but you're soon anxious for the weekend — only to realize it's just Tuesday. We've got five solutions to help cut turn that dread into peaceful acceptance. If that doesn't work, then check out these ways to make your issues heard without getting fired.
Ever heard the phrase "complaining never solves anything"? That may be true at the office, but if you ever experienced terrible customer service, been hit with an unexpected fee, or received a product that wasn't as promised, then that old adage is simply not true. If you're not complaining, you're missing out and even affecting your mental health, according to research. Don't let the prospect of long hold times keep you from righteous retribution! We've got the tips you need to know to save money and get your way through complaining.
Want more vacation, more space, more time and less stress, but your student loans are weighing you down? Then you've arrived at the best tip to help you save on of all of the above. Refinancing student loans can save at least some creditworthy borrowers thousands of dollars on interest payments. But the window for such big savings from education debt refinancing might be rapidly closing. Don't let your loans own you anymore by seeing which option is best for you and save your peace of mind.
Sign up for The Payoff — your weekly crash course on how to live your best financial life. Additionally, for all your burning money questions, check out Mic's credit, savings, career, investing and health care hubs for more information — that pays off.