On the Havasupai Indian Reservation, a failing school has sparked a battle against the government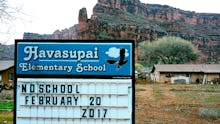 SUPAI, Ariz. — Stephen has an unusual schedule for a 12-year-old.
Every school day, he wakes up early with the other local kids, but instead of joining them in class, he starts his household chores. He takes out the trash and waters the fruit trees near the home he shares with his grandmother and grandfather. When he finishes, he goes outside and practices his jump shot at a nearby basketball court.
At 1 p.m., Stephen walks to school. He works with a teaching specialist for an hour, catching up on basic reading, writing and math lessons he's missed. The lessons are one-on-one. No other children are present. When Stephen finishes at 2, he plays more basketball, and waits for his friends to finish their schoolwork so he can play with them too.
He's in school about five hours per week. He's in sixth grade, and he barely knows how to read. He's lonely.
Stephen is one of 70 students who attend Havasupai Elementary School, which serves kindergarten through eighth grade in the village of Supai, Arizona. The behavioral problems that stem from Stephen's attention deficit hyperactivity disorder are why he's kept out of class so much.
"The teachers have been getting tired of it," Stephen's grandfather, Frank, said in an interview. "They've been sending him home, like, three or four times a week ... He wasn't getting taught anything down here."
(Editor's note: The names of Stephen and his grandparents have been changed to allow them to speak freely about ongoing legal matters.)
"They've been sending him home, like, three or four times a week ... He wasn't getting taught anything down here."
Supai — Stephen's village — is nestled in the base of the Grand Canyon, on the Havasupai Indian Reservation a few hours north of Flagstaff. It is home to about 450 people. With the canyon's red rock walls rising skyward on every side, the village is effectively cut off from the outside world. Havasupai elementary is the only school in town.
Stephen's school days didn't always look like they do now. Before his grandparents agreed to his current schedule — home for the morning, working with a specialist for an hour, back home again — the 12-year-old would disrupt his classes frequently by talking out of turn. His ADHD makes it hard for him to sit still; he'd often stand up and leave the room at random times, and was frequently sent home for misbehavior.
School administrators couldn't figure out how to control Stephen. "Sometimes he comes home without the teacher even explaining why," Sarah, Stephen's grandmother, said.
Until November, Stephen was being suspended so often that his grandparents say he was only in class one full day per week. His behavioral troubles came to a head in September, when he yanked the wires out of the back of a school computer. Rather than handle the matter internally, administrators called the police. Local law enforcement ended up arresting and indicting the 12-year-old for destruction of government property.
Fortunately for Stephen and his family, the case got thrown out. "The cops messed up the complaint, so they had to dismiss it," Frank said. "[They put] the wrong name and the wrong time."
But local families allege that at Havasupai Elementary School, these practices are routine. They say teachers make up for their lack of resources and limited fluency with the local culture by punishing minor misbehavior with outsized consequences. Administrators call local police to deal with behavioral issues, keeping children scared, frustrated and out of class for long stretches of time. Police often take students to jail several hours away from Supai, where they may wait up to a month for a tribal court hearing.
These conditions have reached a boiling point for many in the community. On Jan. 12, Stephen joined eight other Havasupai students in a lawsuit against the Bureau of Indian Education — which operates their school — for providing them with an inferior education. In their complaint, the Havasupai children ask the U.S. government for a concession: that the BIE acknowledge and rectify the many ways it has failed them and their peers.
"None of [the BIE] officials would tolerate these conditions in their own kids' schools," Kathryn Eidmann, an attorney with Public Counsel, the pro bono public interest law firm that filed the brief along with five other legal organizations, told Mic in January. "There's just been complete neglect on the part of the government."
The conditions detailed in the legal complaint are shocking. It describes a school without any functional system to help students with special education needs, who make up roughly half of the student body. The school also lacks a functioning library. The only subjects taught are math, reading and writing — no science, no languages, no social studies, no physical education.
As a consequence, Havasupai elementary is one of the lowest-performing schools operated by the BIE. As a branch of the U.S. Department of Interior, the BIE oversees 183 schools for Native American students across the country, including several on reservations. Data from the 2012-2013 school year shows that among BIE kids, Havasupai students' median reading and math test scores were in the first and third percentiles, respectively, compared with students in those grades and subject areas across the country. That puts them in last place among all students at schools run by the BIE.
The school also lacks a functioning library. The only subjects taught are math, reading and writing — no science, no languages, no social studies, no physical education.
But Havasupai elementary's academic problems also point to broader issues facing the bureau. Children attending BIE facilities consistently underperform their Native American counterparts at state-run schools. In 2013-2014, high school graduation rates for Native American students were 69% nationwide — already the lowest of any ethnic group — according to National Indian Education Association testimony given before a congressional committee in March 2016. But the rates for BIE youth are even lower: Only 53% of BIE high school students graduate high school, the NIEA said.
On top of their educational shortcomings, BIE facilities are consistently in poor physical condition. An October 2014 report from the Associated Press cataloged the dismal state of affairs at Little Singer Community School on the Navajo Nation in Winslow, Arizona, roughly a two-and-a-half-hour drive southeast of Supai.
"Here's the reality: a cluster of rundown classroom buildings containing asbestos, radon, mice and mold," the AP report reads. "The school is on the government's priority list for replacement. It's been there since at least 2004."
About one-third of BIE schools are in a similarly woeful state — as outlined in a separate series of reports from the Minneapolis Star Tribune in 2015, which documented BIE schools in Minnesota and South Dakota. The government estimated in 2012 that it would cost a combined $1.3 billion to repair the 68 worst of these facilities. But federal inaction has kept them in the same shape for years, despite open acknowledgment of the issues. During a 2013 congressional hearing, former Interior Secretary Sally Jewell called "Indian education ... an embarrassment ... to you and us." In 2015, Arne Duncan, then the U.S. secretary of education, declared the BIE system "the epitome of broke. Just utterly bankrupt."
There are few residential areas in the United States more remote than Supai. The only way in or out is a 10-minute helicopter ride from the lip of the Grand Canyon, or a grueling eight-mile trek to the canyon's base by foot, horse or mule. There are no paved roads, and no cars to speak of — just the semi-hourly sight (and sound) of helicopters landing, taking off and delivering supplies and passengers. The buildings are mostly bungalows. Supai has the only post office in the United States that still gets its deliveries by mule.
About two miles from the village stands the famous Havasu Falls, a stunning natural waterfall that cascades into an impossibly turquoise-colored pond. Hikers and sightseers flock from around the world to take in the view. They snap photographs and laze in the water. Many use Supai as a rest stop, stocking up on snacks and drinks from the general store.
The Havasupai Indian Reservation was founded in 1880. A public schoolhouse followed in 1895, and what was known as the Supai Day School went through various iterations until 1976, when the Bureau of Indian Affairs shut it down. The tribe began operating a replacement, the K-8 Havasupai Elementary School, in 1982. It remains the only school on the reservation. There is no high school, so families have to send their kids out of the canyon to complete their education.
For most of its sporadic existence, the school has been operated by the Havasupai tribe itself. Tribal members have long been wary of sending their children to federally operated boarding schools hundreds of miles away. For decades, across the U.S., such schools forcibly suppressed Native culture, cutting children's hair off, confiscating their tribal clothing, forbidding them from speaking tribal languages and frequently abusing and underfeeding them.
Havasupai students were no exception, and many adults in the tribe today remember harsh treatment in their schooling days.
"I got sent to a boarding school out in Whiteriver, Arizona [when I was young]," Don Watahomigie, co-chairman of the Havasupai tribal council, said. "They didn't treat us the way we should've been treated. ... They would run us and whip us."
After 20 years of tribal control, the Havasupai transferred the school's operation back to the federal government in 2002. According to the complaint, the tribe had gotten little financial or administrative support from the Bureau of Indian Affairs — a distinct agency from the BIE — and couldn't keep pace with the new standards set by the No Child Left Behind Act in 2001.
The BIE took over the school soon after, and the federal neglect continued — only now, it was a costlier problem. The Indian Education Act of 1972 had committed the government to improving Native American schools. Amendments followed in 1978 and 2001 that gave the federal government "sole responsibility" for operating and financially supporting schools run by the BIE.
Federal law now requires the BIE to provide Native children with "educational opportunities that equal or exceed those for all other students in the United States." This includes teaching Native students "both English and the primary native language of the school population" — in this case, Havasupai. Such standards are meant to fulfill the specific needs of local residents and their culture. But if that doesn't happen — as is allegedly the case in Supai — parents have little recourse. The state of Arizona can't do much to help them because the school is federally operated. Tribal members are, more or less, stuck with what the BIE gives them.
"We didn't ask to be put on a reservation," Coleen Kaska, a Havasupai tribal council member, said. "We wanted to be left alone, with our own culture, our own identity, do our own thing. But [this] was imposed upon us. And [the BIE] are not doing their part right now."
The cultural divide between the Havasupai students and the school's teachers only make matters worse. According to the tribal council, none of the educators at Havasupai elementary are actually from the reservation. They come from outside the canyon, flying in by helicopter for the week to work and live in designated BIE housing. When Friday comes around, they rush to get home for the weekend. Residents say teachers often leave as early as noon to get a head start.
According to the complaint document, teacher turnover is so high that on more than one occasion, the school has shut down in the middle of the year because there weren't enough adults to administer all the classes. Even when school is in session, there are often not enough teachers to supervise the students. One child involved in the lawsuit — a 6-year-old girl — was reportedly sexually assaulted by a fellow student on an unsupervised school playground. Another time, she was forced against a wall and choked by another student in a classroom while the teacher wasn't watching.
"We didn't ask to be put on a reservation. ... And [the BIE] are not doing their part right now."
Subpar working conditions also affect how teachers discipline Havasupai students. One child included in the lawsuit — a 13-year-old boy — was forcibly restrained by an instructor when he was 10, who sat on top of him while he shouted, "I can't breathe ... You're hurting me." The police get called often when kids misbehave. But where many schools employ specially designated school resource officers to perform these duties, in Supai, these officers are the community's whole law enforcement apparatus. They are both school police and community police.
"There's no reason" for police to be involved in school matters, Sarah, Stephen's grandmother, said. "[The teachers] should be able to take care of it without the police." Her husband, Frank, added that before police became a common sight on school grounds, "it was good enough to say, 'Go get your mom and dad.'"
Like the teachers, none of the tribal police officers are from the reservation, tribal Vice Chairman Edmond Tilousi said. They are assigned to work there by the BIA. (Havasupai tribal police did not respond to a request for comment.) At any given time, there are as many as three of them — armed with guns — patrolling the school perimeter. It's a disconcerting sight in a community with just over 400 people. In Phoenix, there's one police officer for every 500 people, according to Governing. In Supai, there's roughly one for every 150.
On a cool afternoon in February, eight members of the Havasupai tribal council met in a mess hall in Supai to discuss the lawsuit. Seated around a rectangular arrangement of folding tables, council members said they fully supported the Havasupai families taking legal action against the government. And with good reason: Some of the council members attended the school themselves. They are familiar with how it fails the reservation's children.
"This thing with the school has been going on for ... 50 years, and even more than that," Kaska said. "I went to school down here ... but I was taken out [by] my parents because they knew that that time the education the government was giving our students was not up to par."
Kaska's parents sent her away after the fourth grade to attend school in Phoenix, about 200 miles away. But when she left the canyon, she was immediately at a deficit: She didn't know how to read or write.
"I was made fun of," Kaska said. "Being away from my family was hard ... [but] I'm thankful for my parents for doing that."
Kaska and other council members choked back tears as they vented similar frustrations with the BIE and the school.
"I graduated eighth grade down here [on the reservation]," Carletta Tilousi said. "I was one of the top students. And I went to private boarding school [outside the canyon], and I didn't know fractions. I was in the ninth grade. I stood in front of class, in front of all these people, I didn't know how to do a fraction ... That was really humiliating."
In spite of what council members said was years of agitating and trying to mobilize elected officials, their complaints have fallen mostly on deaf ears. Things only started to gain momentum when the Native American Disability Law Center — a public interest firm based in Farmington, New Mexico, which has represented Havasupai clients in different cases since 2014 — decided to focus its resources on filing a lawsuit to improve the school. Council members only wish it had happened sooner.
"The tribe should have done that many, many years ago," Kaska said of the lawsuit. "It should have been done from the beginning."
Meanwhile, attorneys for the BIE have filed a motion to strike the complaint. They don't deny the allegations. Rather, they argue the complaint was too long and complicated to move forward with any concrete legal proceedings.
"[The complaint] is verbose, repetitive and argumentative," the filing reads. "The court should therefore require plaintiffs ... to 'streamline and reorganize [it] before ... 'requiring defendants to file an answer.'"
Attorneys for the children, in turn, filed an opposition to the motion to strike on April 21.
"Defendants make essentially no substantive arguments as to prejudice," the opposition reads. "[Their] argument consists of listing numbers of paragraphs in the complaint and affixing labels like 'argumentative' or 'repetitive' to them, without touching the substance or tying these labels to any actual prejudice to defendants."
Both the BIE and Havasupai Elementary School declined Mic's request for comment on this story. The original complaint — which clocks in at 97 pages — asks that the bureau be found in violation of federal law. It also asks that the BIE cover plaintiffs' legal fees, and "provide appropriate compensatory and remedial education for all" current and former students named in the complaint. A long legal battle is expected to follow. But the Havasupai parents see it as a last-ditch effort to salvage their kids' educational future. They are ready to fight.
Later that same afternoon, a short walk down the road, Stephen's grandparents sit outside the Havasupai Head Start facility. The interior of the tiny building is adorned with bright primary colors, and the walls are lined with animal cutouts captioned with their Havasupai names. Preschool and kindergarten-age children on the reservation go to the Head Start program before attending the elementary school.
Frank and Sarah seem tired as they lower themselves onto a bench in the playground and begin speaking in steady, measured tones. Their grandson's struggles — and the school's failures — have clearly taken their toll on the pair.
"I would like for [Stephen] to be educated enough to go out and get a job on the outside," Frank said of his hopes for his grandson. "I don't want him stuck down here [on the reservation], because there's hardly any jobs, unless you get a job with the tribe, that's not seasonal, like [tourism] ... I'd like for him to be able to find a job and support himself."
Frank and Sarah know that time is running out for Stephen to get through sixth grade on anything resembling a normal timeline. Their immediate hope is to get him back on a regular, weekly school schedule. Beyond that, they want him to attend "better" schools in California or Oklahoma — even though it would require sending him off the reservation. But they also know the lawsuit could drag on for years. And there's no guarantee that compensation from the BIE is forthcoming.
"I'm trying to get the school and the BIE to live up to their obligations and teach our kids," Frank says, his head bowed with fatigue. "It's time somebody did something about it."