'Forza Horizon 3' Hot Wheels DLC: Expansion car list revealed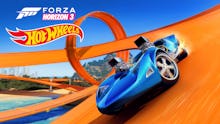 The latest addition to the Forza Horizon 3 world is a throwback to childhood with the new Hot Wheels expansion. It was revealed on Wednesday and is set to be available to Xbox One and PC gamers on May 9.
The Hot Wheels expansion pack will be available at no additional cost for subscribers to the Forza Horizon 3 Expansion Pass. For non-subscribers, the DLC will cost $19.99. 
Here's a look at the trailer from Turn 10 Studios on YouTube:
The new content takes players to a new location in Australia. There are miles of orange looping tracks that fans of the Hot Wheels brand will recognize. 
There are also recognizable Hot Wheels vehicles like the Twin Mill, Rip Rod and the Bone Shaker. Here's a list of all the new vehicles that will be available, per Operation Sports:
1969 Hot Wheels Twin Mill
2011 Hot Wheels Bone Shaker
2012 Hot Wheels Rip Rod
2005 Hot Wheels Ford Mustang
2016 Jeep Trailcat
2016 Zenvo ST1
2007 Toyota Hilux Arctic Trucks AT38
2010 Pagani Zonda R
1972 Chrysler VH Valiant Charger R/T E49
In addition to the new vehicles, the expansion will also include six new themed locations. It's all about stunts and high-speed driving, which should suit fans of Hot Wheels just fine.
More sports gaming news and updates
Are you a sports gamer? Check out more content from Mic, including tips for leveling up your NBA 2K17 MyPlayer, playing quarterback in Madden 17, our review of MLB The Show 17 and the classic Nintendo sports games we want to see on the Switch.