Donald Trump drafts plan to pull out of NAFTA, then immediately says he won't — yet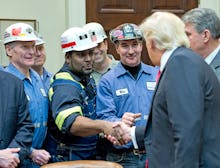 President Donald Trump reportedly drafted a plan to pull the U.S. out of the North American Free Trade Agreement, a move that would set the stage for the his administration to fulfill his campaign promise to renegotiate the deal but could have wide-ranging economic effects.
But less than 24 hours later, according to a White House statement, the president had reassured both Mexican President Enrique Peña Nieto and Canadian Prime Minister Justin Trudeau in a "pleasant and productive" conversation he "had agreed not to terminate NAFTA at this time."
According to the New York Times, a "senior administration official" said an executive order to withdraw from NAFTA was forthcoming, though its ultimate substance never materialized. Any withdrawal would trigger the six-month notification period set forth in the deal, during which Trump could potentially renegotiate the trade deal with fellow NAFTA signatories Canada and Mexico.
The plan was first reported by Politico, which cited two White House officials as saying the order could be handed down as early as this or next week. Politico noted National Trade Council head Peter Navarro and Steve Bannon, the former head of far-right site Breitbart News turned Trump's chief strategist, were key backers of the initiative.
NAFTA was originally signed by President Bill Clinton, along with Mexico and Canada. The deal eliminated trade barriers like tariffs, adjusted intellectual property law for compatibility between all parties and committed the signatories to investments in transportation infrastructure.
Wait, doesn't Trump hate NAFTA?
Trump's "pleasant and productive" conversation with the two leaders is a sharp contradiction with his campaign, when he labeled NAFTA the "worst trade deal ever," repeatedly railed against the U.S.' $50 billion annual trade deficit and said the agreement contributed to the massive losses of manufacturing jobs across the country in recent decades.
According to the Council on Foreign Relations, many economists have a different assessment: That signatories to the agreement have generally benefited. CFR argues NAFTA was one of the factors contributing to a tripling of North American regional trade from $290 billion in 1993 to more than $1.1 trillion by 2016.
While the progressive Economic Policy Institute estimates the resulting U.S. trade deficit with Mexico had displaced more than 680,000 U.S. jobs by 2010 and has contributed to lower incomes among U.S. manufacturing workers, other economists counter it lowered the prices of goods and created jobs in different sectors.
So why the rapid about-face?
The political backlash from today's trial balloon is the most immediately obvious explanation for why the White House backed down so quickly. But Trump is generally agreed to have the power to withdraw from NAFTA without congressional approval. Earlier in his presidency, he withdrew the U.S. from negotiations to form the Trans-Pacific Partnership, a larger international deal which was widely reviled by conservative populists as well as progressives who criticized the deal as a corporate handout.
As Politico noted, Trump's threat to unilaterally pull out of NAFTA alarmed members of Congress in both parties, particularly those from southwestern states who have industries highly reliant on U.S.-Mexico trade. Republican Arizona Sen. John McCain said the withdrawal would have "the worst possible impact" on his state. He added "I'd be glad to have renegotiation of some of the terms of it, because a lot of time has passed," but that a withdrawal would be "disgraceful and a disaster."
It's not the first time Trump has rapidly shifted his approach to an issue in the face of difficult political winds. Earlier this week, he abandoned fighting for funding for his promised wall on the border with Mexico when it became clear the unpopular idea could force a government shutdown, with officials saying he would return to the idea later.