Ivanka Trump says admitting Syrian refugees "has to be part of the discussion"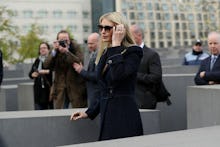 Ivanka Trump is being hissed from both sides after her visit to Berlin for the W20 conference. Having made some questionable comments about President Donald Trump's alleged advocacy for women and families, the first daughter later expressed sympathy for Syrian refugees, igniting the ire of her father's supporters. 
In an interview with NBC's chief white house correspondent, Hallie Jackson, Ivanka argued that she was not "a back channel" to her father for German Chancellor Angela Merkel, as Jackson put it, but rather an ally "on many issues" — such as refugees, apparently. 
"I think there is a global humanitarian crisis that's happening, and we have to come together. And we have to solve it," Ivanka said. 
When asked if that included opening the borders to Syrian refugees in the U.S., Ivanka answered, "That has to be part of the discussion, but that's not going to be enough, in and of itself."
Germany has spent billions taking in more than a million refugees. Under Trump, the United States has proved far less friendly: In keeping with his xenophobic campaign platform, the president has on two occasions attempted to ban immigrants from majority Muslim countries from entering the United States. Syria made the list both times. 
Trump fans weren't happy with Ivanka's position and jeered her on Twitter.
Meanwhile, Ivanka fielded boos from the crowd at a women's economic empowerment panel on Tuesday, after insisting her father was a "tremendous champion of supporting families." And then, her own advocacy for working women rang hypocritical in light of a report alleging her clothing brand is produced by garment workers in China who are paid an hourly wage of about $1. She also surprised the White House with the announcement of a World Bank-backed global fund for female entrepreneurship — perhaps a partial replacement for the Office of Global Women's Issues her father plans to cut?