Georgia police officers who were filmed beating a black man will face criminal charges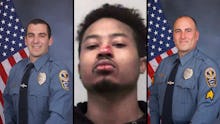 The white Georgia police officers who were recently fired for beating a black man will face criminal charges, according to the Huffington Post.
In mid-April, video footage surfaced in which two Gwinnett County policemen — Sgt. Michael Bongiovanni and Officer Robert McDonald — can be seen hitting a man named Demetrius Hollins as he gets out of his car during a traffic stop. After handcuffing Hollins and making him lie on the pavement, Bongiovanni and McDonald began kicking him, although Hollins does not seem to be putting up any kind of argument. The officers left Hollins bleeding from the nose and mouth. 
Both Bongiovanni and McDonald are charged with the felony crime of violating their oath of office as well as misdemeanor battery, and could serve at least a year in prison if found guilty.
"We believe it's important and the management of the police department believes it's important that they move forward with the arrest warrant," District Attorney Danny Porter told WSB-TV ABC Atlanta.
"I don't think I've ever seen a situation where both officers appeared to act without justification," he added.
Hollins and his lawyer told WSB-TV they were pleased to see charges filed in the case, but were hoping for something "more serious than misdemeanor[s]." Porter said those could follow in coming days. 
Following the incident, the Gwinnett County Police Department said in a statement that "the force used was unnecessary and excessive" and that the footage was "very disturbing and speaks for itself."