Fox's Jesse Watters is going on an impromptu "vacation" after gross Ivanka Trump "joke"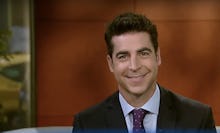 Coincidence?
Following pervy and suggestive comments Fox News host Jesse Watters made about first daughter Ivanka Trump on air, Watters is going on vacation. 
A report from CNN's Brian Stelter lays out the timeline: On Tuesday, the audience at a W20 panel in Berlin booed and hissed Trump for touting her father as a "tremendous champion" of women and families. On The Five,  Watters quickly dismissed the criticism as baffling before taking a hard left turn.
"I really like how she was speaking into that microphone," he said, putting a paper-thin veil over a reference to oral sex. 
Back-peddling on Wednesday morning, Watters tweeted that he was "referencing Ivanka's voice and how it resonates like a smooth jazz radio DJ" and absolutely nothing else. That night on The Five, according to Stelter's report — which emphasizes that "maybe this is a total coincidence" — Watters told viewers he'd be out of office until Monday, missing two prime-time spots during his very first week in the role, along with his Saturday show, Watters' World. 
Know who else announced a conveniently timed but allegedly prescheduled vacation after his history of lewd, demeaning and all-around inappropriate behavior ignited a scandal and an ongoing PR nightmare for Fox News? Watters' former boss, Bill O'Reilly, whom the network fired about a week later. 
Maybe Watters' vacation is a fluke. Then again, maybe it's not.