Women doctors earn way less than men even in the best-paying fields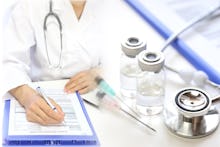 If you're a woman vascular surgeon, you could be missing out on $88,000 a year in pay thanks to the gender wage gap. That's according to a new report from Doximity, a professional networking site for doctors, which found that women are paid far less than men regardless of what field of medicine they choose to practice. 
The report casts doubt on the argument that women are paid less not because of a wage gap, but simply because they choose to head into lower-paying fields, such as family medicine. Doximity culled data from 36,000 self-reported compensation surveys, then controlled for geography, hours worked each week and how long each doctor had been in practice. 
"In no markets or specialties did we find that women make more than men, which is fairly surprising and upsetting," Christopher Whaley, an economics professor at the University of Berkeley School of Public Health who led the study, told Bloomberg. "We might have expected in at least one market, women would make more than men, but we didn't find that." 
Specialties with the largest wage gap
The pay gaps varied wildly from specialization to specialization. Here are the five largest:
Vascular surgery: Men in this specialty reported earning $454,000, while women said they made $365,000 — or 20% less.
Occupational Medicine: Female physicians who specialized in this area earned $214,000 — or 20% less than the $268,000 men made.
Pediatric Endocrinology: Men earned $210,000, while women made just $168,000 — or 20% less.
Gastroenterology: Women who are gastroenterologists earned an average of $333,000 — or 19% less than the $412,000 that their male counterparts made.
Pediatric Rheumatology: Men said they make $264,000 while female physicians who specialized in this area earned $190,000, or 19% less.
If you're a woman physician, one thing to consider may be avoiding practicing in certain parts of the Southeast. Charlotte, North Carolina, had the largest gender wage gap, with women earning a stunning 33% less than men, followed by 31% in Durham, North Carolina, and 30% in Orlando, Florida.
On the flip side, the pay gap was narrowest in Sacramento, California, where women doctors reported earning $63,283 less than men, a 19% pay gap. 
The pay gap is worse among doctors than for women overall
The pay gap among doctors is wider than it is for women in the U.S. as a whole, who earned 82% of what men did in 2016 according to data from the Bureau of Labor Statistics. A typical woman can expect to lose out on about $400,000 due to the wage gap over the course of her career, according to the National Women's Law Center. Women who are sales and marketing managers take the biggest hit, while engineers enjoy the smallest wage gap.
And while doctors are among the best-paid professions in the country, it's also important to consider that a medical degree can cost upwards of $250,000. Starting salaries for doctors are often lower than the total amount of debt they have accumulated, according to NerdWallet. And since women pay just as much as men for their medical education, the wage gap hits them especially hard.
Sign up for The Payoff — your weekly crash course on how to live your best financial life. Additionally, for all your burning money questions, check out Mic's credit, savings,career, investing and health care hubs for more information — that pays off.