Twitter is helpfully reminding Trump that Puerto Rico is part of the US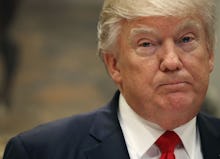 President Donald Trump is attacking Democrats for trying to "bail out ... Puerto Rico with your tax dollars," which, in a pair of tweets Wednesday night and Thursday morning, he said was "Sad!"
The tweets came in response to a Democratic effort to help Puerto Rico — which is mired in a massive debt crisis — cover Medicaid.
"NO!" Trump wrote in response to the push.
While the president clearly opposes using Americans' tax dollars to help out the territory, many helpfully pointed out that Puerto Rico is — in fact — part of the United States of America.
In the tweets, Trump also accused Democrats of attempting to shut down the government over "disastrous" Obamacare.