Lena Dunham said she has a "great time" with her own body on 'Girls'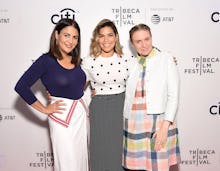 Whatever fucks Dunham gave about her body were long gone by the time Girls premiered on HBO.
On a Tuesday panel at the Tribeca Film Festival moderated by actress America Ferrera, Dunham and her co-producer Jenni Konner reflected on the response to Girls' message on body acceptance.
"Men, generally, were very angry that she felt comfortable showing her body," Konner said, according to the Huffington Post. "In the third season, a reporter from the Wrap raised his hand [at a press conference] and asked, 'Why do you show your body so much?' And I had a rage spiral."
Dunham has spoken out before about how these comments have affected her self-esteem, telling Harper's Bazaar in 2015 that she's been  "put to bed for weeks" from reading harsh words about herself "on sites that used to be considered feminist gospel." 
But the Girls creator and star struck a different tone on Tuesday, maintaining that exposing her body never felt as radical — or as controversial — as people thought.
"I've always been like Rihanna to myself," she said. "Like, I just have a great time with my own body."
I think people were so ready to believe that I was, like, jumping past some massive hurdle in order to get naked on television. That's not where my fear lies. If that's what scared me, I wouldn't do it every week.
Despite Dunham's own irreverence on the topic, it's possible one of the greatest gains Girls made for feminism has been in the body positivity arena.
As Mic has reported before, in 2012 it was all but unheard of to see a plus-size model on the runway or on the cover of Elle magazine. And here Dunham was, on prime-time television.
The actress did accept some credit for this during Tuesday's panel.
"Some of the most love and compliments I've gotten have been from women who are considered to have perfect and beautiful bodies, who I think feel the constant pressure to maintain those bodies," Dunham said. "They seem to have felt freed in some way by seeing me just say 'fuck it.'"