'Arrow' Season 5, Episode 20 Preview: Prometheus traps Oliver and Felicity in "Underneath"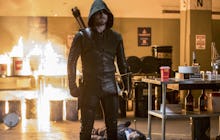 Arrow has returned from its hiatus, and with only a few episodes left in its much-improved fifth season, Prometheus once again has the upper hand. After Adrian Chase was revealed to the world as the serial killer known as Prometheus, Team Arrow, ARGUS and the SCPD all work together in an attempt to bring the villain to justice. Unfortunately, Chase continues to stay a few steps ahead, and eludes them at every move. 
This forces Felicity to go deeper down the rabbit hole that is Helix, helping the group of hackers to break one of their own out of ARGUS custody. And while this puts her at odds with Oliver, and the rest of Team Arrow, it does lead to a way to track Chase. Unfortunately, by the time Felicity and Oliver realize where he is, Chase has already sprung a trap — in Team Arrow's bunker no less. 
In season five, episode 20, titled "Underneath," Oliver and Felicity will have to work together to escape the prison that Chase has trapped them in. And things will be rather complicated, as the EMP Chase sets off also short-circuits the device that allows Felicity to walk (remember, she was paralyzed in season four). 
While Oliver and Felicity fight to stay alive in what looks to be a Saw-like scenario, John and Lyla will have their own issues, as the former is still considerably uncomfortable with his wife's decisions as the head of ARGUS. For now, check out the official synopsis for next week's Arrow, via Spoiler TV, below:
Things get intense when Oliver (Stephen Amell) and Felicity (Emily Bett Rickards) are trapped in the bunker together. Meanwhile, Lyla (guest star Audrey Marie Anderson) and Diggle (David Ramsey) deal with their martial issues.
Obviously, we have more for you. To hold you over, here is the promo for "Underneath": 
Mic has ongoing coverage of Arrow. Please follow our main Arrow hub here.