Rep. Steve King said something racist again. This time he targeted a Latina constituent.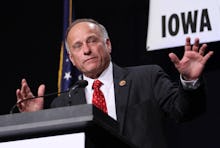 Rep. Steve King (R-Iowa) has a knack for making racist commentary. While most of his remarks are directed at Muslim babies, African-Americans and all nonwhite people, this time he took on one of his constituents.
On Tuesday, constituents from King's district traveled to his Washington, D.C., office for an afternoon meeting with his legislative director Jared Culver. According to the Huffington Post, the group waited about 25 minutes for Culver before deciding to leave. Culver never showed up. Afterward Vanessa Marcano-Kelly, a board member of Iowa Citizens for Community Improvement, tweeted about her unprofessional experience with King's office.
Minutes later, King responded to 32-year-old Marcano-Kelly, who is an immigrant from Venezuela.
"Do you always lie in English?" King quote-tweeted.
Marcano-Kelly is a Spanish-speaking translator and interpreter. Some of her tweets on her Twitter account are written in Spanish when she attended a conference in Venezuela. But King decided to use her bilingual skills and talents against her.
"It was shocking to see that," Marcano-Kelly told the New York Daily News. "I had that gut feeling in the pit of my stomach. I felt targeted, attacked and offended that you have this person who's supposed to be representing Iowa, who has power, belittling you like that."
Marcano-Kelly told the Des Moines Register that their meeting with King's office had a lot to do with King's history of making racist remarks and sponsoring and advocating xenophobic legislations on immigration. "It was precisely the kind of thing that he usually does and that we wanted to talk to him about," she said.
Marcano-Kelly and her colleagues returned to King's office to make an in-person complaint to his staff about the racist tweet. The Iowa Citizens for Community Improvement streamed the confrontation on Facebook Live. Staffers offered an apology, admitted they were to blame for the missed meeting and informed the group that King writes his own tweets.
A few moments later, King sent a follow-up tweet to Marcano-Kelly: "U didn't lie. No way to connect u2 the missed meeting. Next time just call. Glad all is cleared up."