This Texas 6th-grader was threatened with suspension all because of a haircut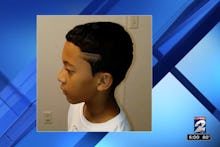 If you saw a picture of sixth-grader Xavier Davis' hair, you probably wouldn't understand what all the fuss is about. 
At first glance, it looks like many other young boy's haircuts, but with two razor cuts in the side. It's a popular style worn by celebrities, including soccer star Cristiano Ronaldo and rapper Chris Brown.
But when Xavier arrived at Cedar Bayou Junior High School in Baytown, Texas, on April 20, he was given an ultimatum: Fix your hair or face suspension. 
"I was walking into class, and then she saw my hair and said, 'You can't have two lines in your hair. Go to the office,'" Xavier told Houston-area TV station KPRC.
It wasn't that Xavier had razor cuts in his hair. It was that he had two. Those two tiny lines are what led to threats of suspension. 
Per the school district's dress code: "Letters, symbols and designs beyond a single straight line which draw attention to an individual shall not be permitted. ... The administrator/supervisor reserves the right to determine if a hairstyle is disruptive to the educational process."
Even still, according to his father, Matt Davis, Xavier's had this hairstyle for months. 
"He's had his hair cut like this for six months and now all of a sudden it's a problem?" Davis told KPRC. 
It was a big enough problem on that first day that Xavier actually ended up with one day of in-school suspension. 
So what'd they do? According to Davis, Xavier's mom simply took a permanent marker and colored in one of his lines. 
"He had a space here and a space there," Matt Davis told KPRC. "She took a Sharpie permanent marker and colored the bottom of his hair in, so in order for him to get an education, we have to treat his hair like a coloring book, I guess."
This is a problem solved for the Davis family, but still, Xavier is far from the only child who's gotten reprimanded for their seemingly harmless hairstyles. In 2015, an eighth grader was sent to the principal's office because her natural hair was "too poofy" and an 11-year-old was kicked out of a cheerleading squad because she didn't straighten her hair. In 2013, a 12-year-old girl was threatened with expulsion because of her natural hair too. 
"I don't know if having one line or two is a distraction to learning, it's not a distraction to me," Davis told KPRC. "It's nonsense. We send him here to get an education. We send him here to learn. It's not about his haircut."
Mic has reached out to Cedar Bayou Junior High School for further comment.