This 6-year-old girl created a book celebrating black indigenous cultures across the globe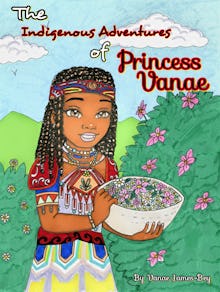 Even a 6-year-old understands that representation matters. Vanae James-Bey and her mother, Veronica Bey, teamed up to create a coloring book celebrating the black indigenous cultures around the world.
The coloring book, The Indigenous Adventures of Princess Vanae, has already been given high praise since going on sale on March 31. The book lets readers in on a journey learning about the history and culture of the native-born black people in Africa and the Americas, the Root reported.
"We've received tons of positive feedback, with orders from Australia to Amsterdam," Bey told the Atlanta Black Star. "Parents asking for one for boys are as negative as the feedback gets."
The book was a family project. Johnathan Ellerbee, Vanae's uncle, provided the illustrations for the book in April 2016. Vanae, who is homeschooled, researched all kinds of indigenous cultures with her mother. Ellerbee then drew illustrations of the 6-year-old wearing their traditional dress and jewelry.
"Culture is very important to our family," Bey told the Atlanta Black Star. "[As well as] knowing about our indigenous roots. Being homeschooled, we tend to stick to a more Afrocentric curriculum and noticed how hard it was to find specific materials for lessons and how many other parents [and] students must feel the same."
Bey said Vanae's curiosity for other cultures and the world stems from watching her parents read books and watch documentaries. "Vanae was naturally curious about history as she is exposed to tons of documentaries and both myself and her father are avid readers; she's always around books," Bey said.
The Indigenous Adventures of Princess Vanae came to fruition as an alternative to curriculum on black and indigenous history for young children of color. Vanae comes from a family with indigenous roots, and her mother didn't want her first academic lesson about her culture and identity to be based on slavery or the genocide of Native Americans.
"Our family has indigenous American roots that we are in touch with and it's always been important for them to know and understand that," Bey said. "More importantly, because we have friends whose children go to public schools and are taught that Native Americans are extinct or are only taught about slavery as Black history, I didn't want that to be my children's introduction to their history."
The Beys have more book ideas in the works. They're hoping to expand their stories to black people from all different cultures.
"We plan on making more volumes because we couldn't fit all cultures into one," Bey added. "Fiction books [are also on the way]. Wherever Black people are in the word as a distinct culture, we plan to explore them all."