Elizabeth Warren sounds off on the Democratic Party's abortion platform kerfuffle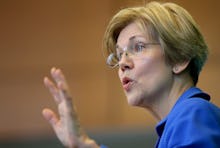 When Omaha, Nebraska, mayoral candidate Heath Mello's anti-abortion rights voting record resurfaced, Democrats were asked to account for their party's official platform on the issue. Would they support candidates who diverged on choice? Or would Democrats remain staunch in their insistence that women's reproductive rights were core to the party?
Sen. Bernie Sanders, who endorsed Mello, defended the candidate, telling NPR, "You just can't exclude people who disagree with us on one issue."
Days later, House Minority Leader Nancy Pelosi came out with a statement of her own, saying "of course" someone who identifies as pro-life can consider themselves a Democrat.
Now Sen. Elizabeth Warren has weighed in. In her latest comments, she seems to side, more or less, with these colleagues. 
"Let me start with this part, because these are deep-down issues," Warren told HuffPost. "I am strongly pro-choice. I am strongly pro-choice, and I will fight."
Warren continued, "I recognize that not all of my colleagues agree with me. I'll do everything I can to persuade them, but they are my colleagues, and that's just how it is with the Democrats."
With the party turning its focus to "economic" issues — something Warren has been particularly outspoken about —  it's interesting the senator and her colleagues wouldn't connect the dots that abortion is an economic issue.
New York Times columnist Bryce Covert clarifies this connection in her Tuesday piece "Why Abortion Is a Progressive Economic Issue."
"Any woman who has had to decide whether she could afford to keep a baby will most likely be able to tell you that economics is deeply embedded in her choice," Covert wrote. "To pretend that these issues are different and that one can be abandoned for the other is disproved in countless women's lives."
This isn't the first time Warren, Sanders and other Democrats have missed this crucial connection. Hopefully, as Mello's campaign continues to spur dialogue about the party's stance on abortion, it's their last.