Samantha Bee says visiting Rikers Island felt like "a Caribbean vacation"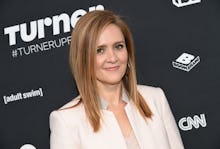 Samantha Bee's latest comments about Rikers Island are a cringe-inducing example of tone-deaf privilege. 
In a conversation with fellow comedian Lena Dunham published Wednesday in the Hollywood Reporter, late-night host Bee, whose show Full Frontal airs weekly on TBS, described filming a segment at Rikers Island, New York City's massive jail complex.
While visiting, she said, Bee had to put her phone "in a lockbox for eight hours," which she said made visiting Rikers as relaxing as "a Caribbean vacation."
"I emerged from Rikers, and everyone was like, 'Your skin is shining.' And it was because I've never been more relaxed. I felt so free just knowing that my phone was safe, but I wasn't allowed to see it or know what was happening in the world."
Dunham responded by asking Bee, "So Rikers became the most relaxing place you've been in months?" To which Bee said, "It was the most free I've felt in months."
Those comments likely strike many as insensitive, considering Rikers' history of human rights abuses, increasing violence and high-profile public scandals — including the case of Khalief Browder, sent to Rikers at the age of 16 in 2010, accused of stealing a backpack. 
Browder, who has become somewhat of a symbol of the human cost of the jail's dysfuntion, was held at Rikers for three years without a trial. Almost two of those years were spent solitary confinement, and in 2015 he died by suicide in his family's home in the Bronx.
There have been plenty of other horrific stories out of Rikers in recent years — in September, New York City agreed to pay out a $5.75 million settlement resulting from the 2013 death of Bradley Ballard, who died after being locked in a Rikers Island cell for six days.
Ballard, who was mentally ill, was naked and covered in urine and feces when he was found, the New York Times reported at the time. The city is currently considering a plan to close the massive complex within the next ten years. 
Bee's "joke" about relaxing in Rikers is a misstep for the comedian, a Daily Show alum whose current show has garnered heaps of praise for its sharp and pointed skewering of politics generally, and President Donald Trump specifically.
Bee has owned up to mistakes in the past — recently she apologized for a segment that mocked the haircut of a man who, it turned out, was undergoing treatment for cancer. Considering the Twitter backlash already surrounding her comments, it seems that she's due for another public apology.