PSA: Freddie Prinze Jr. has a very basic Twitch channel jam-packed with hunky dad charm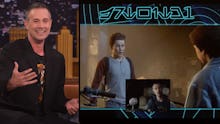 In case you didn't know, Freddie Prinze Jr. — star of '90s teen classics like She's All That and I Know What You Did Last Summer and trophy husband to Sarah Michelle Gellar — has a Twitch channel where he broadcasts himself playing video games. 
Celebrities livestreaming themselves playing games certainly isn't unheard of. Broad City's Ilana Glazer had a YouTube series called Chronic Gamer Girl, and T-Pain has been known to play Overwatch from time to time — but Prinze Jr.'s Twitch channel provides long, unedited looks into his life in a way that few other celebrity livestreams do.
Also, in case you didn't know, Prinze Jr. is a certified silver fox now, and at 41 years old he is no less charismatic than he was back in his '90s dreamboat prime — but that's beside the point. Between nostalgia for his old movie roles and his macho, salt-and-pepper dad aesthetic, his modest Twitch channel is way more charming than it has a right to be.
Freddie Prinze Jr.'s Twitch channel is basic, but annoyingly magnetic
On its face, Prinze Jr.'s Twitch channel shouldn't be all that compelling. All he does is play random video games — most of which are several years old, like Injustice or Grand Theft Auto V — and talk about what he's doing. There aren't really any gimmicks at play.
"It's Guilty Pleasure Sunday, people," he says at the beginning of a stream of Samurai Warriors 4-11. "I have a cup of coffee, the kids are at Nana's house, the wife be working out at the gym. And I'm working out, too — workin' out these thumbs, son!"
It's all very basic, and yet getting a glimpse into Prinze Jr.'s personal life — as a dude playing video games on a simple Twitch channel, talking about Marvel comics — feels like uncovering a fun little secret.
"The kids are at Nana's house, the wife be working out at the gym. And I'm working out, too — workin' out these thumbs, son!"
Maybe it's just because, as a celebrity, the late-'90s and early aughts heartthrob hasn't been as visible since his heyday. But it's worth noting that Prinze Jr.'s career has continued to flourish in smaller, nerdier niches that let him fly a bit more under the radar. Not only did he work with the WWE for a while, but he also regularly voice-acts in animated shows and video games — for example, he currently has a lead role in Star Wars: Rebels.
If you're not into the culture of Twitch livestreams, Prinze Jr.'s videos probably won't hold your attention for long, but the excitement of discovering it exists at all might spur you to watch far more of his backlog of videos than you feel comfortable admitting — and you should. Try this one of Injustice, this one of Uncharted 4 or this one of Dragon Age: Inquisition — a game in which Prinze Jr. actually voices a character: the pansexual, macho Qunari mercenary, Iron Bull.
Still, it's hard to put your finger on exactly what makes his livestreams so charming.
Anyway. Now you know.
More gaming news and updates
Check out the latest from Mic, including our deep dive into how female Overwatch players are dealing with online harassment, an article about a fan movement advocating for more same-sex romance options in Mass Effect, a personal essay about JonTron written by a fellow Iranian-American and an article looking at cultural diversity in Overwatch.