'Overwatch' Officer D.Va and Oni Genji: How to get the new skins on PS4 and Xbox One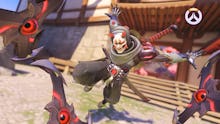 Don't worry, Overwatch players on PS4 and Xbox One: Even though Heroes of the Storm is a PC game, you can still earn those special Officer D.Va and Oni Genji skins on console.
All you have to do is link your PlayStation Network or Xbox Live account with your Battle.net account. (If you need guidance on actually completing the Nexus Challenge 2.0 missions within Heroes of the Storm, check out our full guide here.)
Overwatch Oni Genji and Officer D.Va skins: How to get them on PS4 and Xbox One
Here are instructions for how to link your accounts on a computer:
1. Log in to Battle.net.
And here's how to link your account from your console:
1. While in the game, open the main menu and choose Link Account.
Note: In-game goodies can only be claimed once, and cannot be undone. So, make sure you have the right accounts linked up before you pull the trigger.
More Overwatch news and updates
For more on Overwatch, check out the rest of what Mic has to offer. Here is our Project Runway-style judging of every new Uprising skin, an unintentionally hilarious infographic showing the most popular Overwatch characters in each state, our definitive ranking of every Overwatch hero and a giant Overwatch FAQ for beginners.