Ex-Trump security adviser Michael Flynn was warned not to take foreign money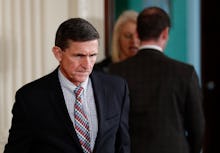 President Donald Trump's former national security adviser, Michael Flynn, was warned not to take payments from foreign governments, newly public documents show.
Flynn, a retired Army lieutenant general, resigned in disgrace in February after admitting he had misled Vice President Mike Pence about his interactions with Russian ambassador to the U.S. Sergey Kislyak.
On Thursday, Rep. Elijah Cummings (D-Md.), ranking Democrat on the House Oversight Committee, made public a 2014 letter from the Defense Intelligence Agency. In a statement, Cummings pointed out the letter informed Flynn that, as he entered retirement, "he was prohibited by the Constitution from receiving payments from foreign sources without advance permission."
"The news comes two days after Cummings and House oversight chairman Jason Chaffetz said Flynn may have broken the law by not disclosing payments he received from RT-TV, a station widely considered to be a propaganda arm of the Russian government," CNN noted.
In his statement, Cummings said the findings "raise grave questions about why Gen. Flynn concealed the payments he received from foreign sources after he was warned explicitly by the Pentagon," and noted House lawmakers have put in a request with the White House seeking further documentation.
In a Thursday news conference about the documents, Cummings also trained his sights on the White House for refusing to release full information about Flynn, saying the stonewalling "makes the American people think they have something to hide."
The Washington Post reported Thursday that the Pentagon is now investigating money Flynn received from foreign groups. Those include payments related to his appearance at a dinner thrown by the Kremlin-controlled news organization RT and his work as a foreign agent for Turkish interests.
Flynn's attorney, Robert Kelner, previously said Flynn informed the DIA about a trip to Russia he took to appear at an RT-sponsored event.
However, Cummings said in Thursday's statement, "regardless of whether Flynn discussed his trip to Moscow with DIA, the Committee has obtained no evidence that he disclosed the payments he received from the Kremlin-backed propaganda outlet RT or that he obtained permission from the Secretary of the Army and the Secretary of State, as required."
In response to a Mic inquiry, Kelner later forwarded a written statement "respectfully" disagreeing with Cummings' characterization of the Flynn matter, writing:
DIA's letter actually confirms, in a terse section that is partly redacted, that General Flynn provided information and documents on a thumb drive to the Department of Defense concerning the 'RT' speaking event in Moscow, including documents reflecting that he was using a speakers bureau for the event. General Flynn provided two briefings to the Department — one before and one after the event. The Department was fully aware of the trip. 
Kelner urged the release of the full letter, "along with the documents that General Flynn provided to DIA during the briefings" and other related details.
The Flynn probe is part of a series of larger, lingering questions about whether the Trump campaign was involved with Russia, which federal authorities have said was bent on interfering with the outcome of the 2016 U.S. presidential campaign.
The new information comes amid tensions with Russia over not only the election but over Syria's Bashar Assad regime. Following a meeting earlier this month with top Russian officials in Moscow, Secretary of State Rex Tillerson said U.S.-Russia relations stand at a disturbingly low level of trust.
At Thursday afternoon's White House daily media briefing, Trump press secretary Sean Spicer sought to distance Flynn from the president and called the Pentagon investigation into the former NSA adviser "appropriate."
Spicer, in an effort to put as much daylight as possible between the embattled Flynn and the White House, repeatedly said Flynn's security clearances dated back to the administration of former President Barack Obama.
"All of that clearance was made during the Obama administration, and apparently with knowledge of the trip that he took," Spicer said of Flynn and his travel to Russia.
He refused to say whether Trump, knowing what he knows now, regretted bringing Flynn aboard.
April 27, 2017, 2:10 p.m. EST: This story has been updated.