United Airlines flights are noticeably cheaper now, for some reason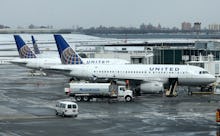 Now might be a great time to fly United Airlines — if you're willing to risk it. In the wake of a series of high-profile scandals, including the brutal removal of passenger David Dao, who was dragged screaming from his overbooked United flight earlier this month, the airline is offering some serious deals.
According to cheap flight expert Scott Keyes, founder of the website Scott's Cheap Flights, United Airlines is offering flights for much less than their usual value.
"Since the incident on United 3411, there's been a noticeable drop in United's fares," Keyes told Travel and Leisure on Wednesday, adding "I'm not privy to United's internal numbers, but whatever drop in bookings they were seeing must have scared them enough to slash prices."
Some of the deals Keyes said he had spotted included a round-trip flight to Paris for $433, nearly half its typical price, and a round-trip flight to Sweden for as low as $364.
Keyes referred to these deals as "apology fares," — but low prices aren't United's only strategy to win back customers. 
This week the airline announced a series of changes it is implementing as a result of the violent incident involving Dao, the BBC reported on Thursday: United says it will now pay out up to $10,000 in compensation to passengers who have to give up their seats, a policy similar to one put in place by Delta earlier this month.
Untied CEO Oscar Munoz discussed the new policies in an interview with NBC News' Lester Holt this week, calling the Dao incident the result of a "system failure." Munoz also outlined the new policies in a full-page ad in the Washington Post on Thursday,
United's other policy changes include no longer forcing passengers to give up their seats involuntarily and no longer using law enforcement to forcibly remove passengers from flights "unless it is a matter of safety and security," the BBC reported. So maybe it is a good time to cash in on those deals after all.