'Persona 5' Koh-i-noor Guide: How to capture the treasure demon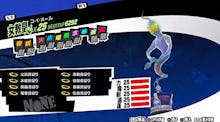 Persona 5 is filled with interesting personas to capture. In fact, the variety of available personas and the fusion process in general is one of the main attractions to the Persona games. 
However, there is another type of persona in the game that acts a little differently — these are the treasure demon persona. Treasure demon personas come in different forms. Some of the first ones you encounter are Regent and Queen's Necklace. 
One of the trickier treasure demons is Koh-i-noor, which appears in the fifth palace in the game. If you're looking to catch this particular treasure demon, we can help.
Persona 5 Koh-i-noor Guide: Capturing the treasure demon
The Koh-i-noor persona is unique because it has resistance to every type of attack you can make — but there are some skills that might work. Certain luck-based skills have the opportunity to automatically land a critical hit on an enemy, leaving the Koh-i-noor vulnerable to capture.
According to GameSkinny, some of the moves you can use for this are:
Lucky Punch
Lucky Punch is a move that Morgana gets pretty early in the game, so you should at least have that. If you have the opportunity, it's preferable to fuse a persona with high luck and at least one of the those moves.
If you're looking for a detailed chart of all of the weaknesses and resists for all of Persona 5's treasure demons, iDigitalTimes has put together a useful one.
More Persona 5 news, updates, tips and tricks
For more on the latest entry in the Persona series, check out the rest of what Mic has to offer. Here's a guide on how to capture Personas, and here's one on building relationships with the game's Confidant system. Here are some tips on beating the first boss and the second boss. Finally, here are the answers on some of the crossword puzzles.