Connecticut bill would allow police to use armed drones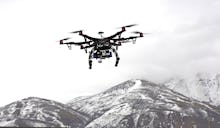 Should police be allowed to use weaponized drones?
That's the question Connecticut lawmakers are debating right now with House Bill 7260, which would allow law enforcement to deploy drones to release tear gas, bullets and bombs.
Proponents of the measure say that it's necessary and that it would be "extremely narrowly tailored."
"Obviously this is for very limited circumstances," Republican state Sen. John Kissel, co-chairman of the Judiciary Committee that approved the bill and sent it to the House, said, according to the Associated Press. "We can certainly envision some incident on some campus or someplace where someone is a rogue shooter or someone was kidnapped and you try to blow out a tire."
But opponents of the measure worry about the precedent the move would set, and say that armed drones would make citizens feel like the "enemy" of a militarized police force as departments continue to deal with scrutiny over racism and use of force in communities of color.
"It will make [citizens] feel like the enemy," David McGuire, executive director of the ACLU of Connecticut, told NBC News. "The basic idea of a gun or Taser on a drone is, simply put, a chilling sight."
No U.S. police departments currently use armed drones
Use of drones for search missions, crime scene photography and surveillance has become increasingly common. At least 347 law enforcement and emergency response departments nationwide have acquired drones, according to researchers at Bard College, and more are considering using them. 
However, no U.S. police departments currently use weaponized drones, according to NBC News. 
But some lawmakers in Connecticut — where only three police departments have a drone — say that civilians have been able to arm drones and that police should have the same ability.
"We have to be able to fight fire with fire," Kissel said. "The use of weaponized drones isn't going to go away because we don't like it, so we have to do something now."
In 2015, a Connecticut teenager built a "flying gun" and posted a video of it to YouTube. The proposed HB 7260 would ban such civilian armed drone use, but would exempt police departments and allow their use in "serious events" — not "for pulling over a car if the driver was speeding," according to sstate Sen. Paul Doyle, a Democrat who supports the bill.
Would Connecticut bill set a "dangerous" precedent?
Still, some legislators and civil rights groups are warning that the bill could set a "dangerous" precedent.
The issue captured national attention last summer when Dallas police used a bomb-carrying robot to kill a sniper who'd opened fire on a peaceful Black Lives Matter protest in what appeared to be the first such lethal use of a robot in policing. Police have said that unmanned weapons could reduce police casualties in perilous situations, and Taser International, now known as Axon, was inspired by the Dallas case to propose mounting stun guns on small, quadcopter-style drones for police to deploy for potential use-of-force scenarios.
But armed drones and robots also raise ethical concerns.
"There's a disconnect with a person sitting in a trailer commanding a drone that can hurt or kill," North Dakota state Rep. Rick Becker, who led the push to ban drones with lethal weapons in his state, told NBC News. "That's the dangerous, creepy thing about it."
Connecticut lawmakers continue to debate the measure. They have until the end of the legislative session in June to pass it through the state House and Senate.