'Call of Duty: WWII' Zombies: Sledgehammer teases new zombies mode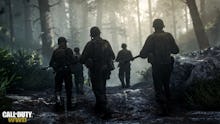 Zombies mode has become a game unto itself since being introduced to Call of Duty in 2008's World at War. The co-op, wave-based survival mode has become increasingly involved over the years, bringing in playable celebrity characters and bizarre science-fiction weaponry with DLC expansions.
Of course it's going to be in the newly revealed Call of Duty: WWII. 
Sledgehammer teases zombies mode for Call of Duty: WWII
All we have, courtesy of GameSpot, is a teaser image released alongside the game's reveal trailer yesterday:
Sledgehammer Games called it an "entirely new story" about "the Third Reich's desperate attempt to create an army in the final stages of the war." Whether that means it'll have a fully fleshed-out narrative or it will be a framing device for more zombie shooting action remains to be seen. 
We will apparently learn more about zombies mode at E3 in June. Until then, you'll just have to let the zombies mode from Infinite Warfare or Black Ops 3 or any Call of Duty from the past decade hold you over.
More gaming news and updates
Check out the latest from Mic, including our deep dive into how female Overwatchplayers are dealing with online harassment, an article about a fan movement advocating for more same-sex romance options in Mass Effect, a personal essay to JonTron from another Iranian-American and an article looking at cultural diversity in Overwatch.