The 11 best US banks for customer satisfaction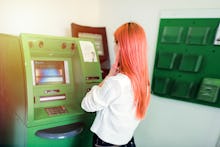 Choosing a bank can be tricky given all the unknowns. The interest rate you earn one day could change the next, and you never how you'll actually feel about a bank's mobile app until you're already a customer. What's more, no amount of comparing fees and policies will give you a feel for how a bank's customer service is should you ever find yourself in a jam.
A new study by J.D. Power surveying 78,000 customers of 136 of the largest banks attempts to answer some of those unknowns by ranking retail banks by customer satisfaction. But bear in mind that the most beloved banks may not have achieved that status by offering the best rates or deals, so be sure to weigh the study's findings as just one of many considerations. 
Regional banks beat big banks in customer satisfaction
In the J.D. Power study, consumers were asked to rank banks on a scale of 1 to 10 for everything from fees to problem resolution to mobile banking. Their responses were then weighted and scores were adjusted to fit a 1,000-point scale, Jim Miller, senior director of banking for J.D. Power, said in a phone interview.  
The findings were organized by region, and notably not one of the big four banks (JPMorgan Chase, Bank of America, Wells Fargo or Citigroup) were among the favorites. The banks that ranked the highest in customer satisfaction included:
• California: BBVA Compass
• Florida: Fifth Third Bank
• Mid-Atlantic Region: Huntington National Bank
• Midwest Region: Wintrust Community Bank
• New England Region: Rockland Trust
• North Central Region: Huntington National Bank
• Northwest Region: Banner Bank
• South Central Region: U.S. Bank
• Southeast Region: United Community Bank 
• Southwest Region: BancFirst
• Texas: Frost Bank 
We're addicted to mobile banking — but still want a real person to solve our problems
While mobile banking has become commonplace — with 49% of millennials using mobile banking, compared to 16% of boomers — access to local bank branches is still important, according to the study. At least 71% of customers visited a local bank branch at least 14 times, and satisfaction was 27 points higher among branch visitors compared to those people who only banked online.
"While younger customers want to do their banking digitally, they like to have access to call centers and local branches." Miller explained. "They love mobile, but they still want to be able to connect with a person when they want to."
Banks that excelled at problem solving also fared significantly better than those that struggled with resolving issues by comparison. Customers whose banks resolved problems efficiently reported higher satisfaction scores and higher levels of loyalty — and millennials especially expressed a preference for banks that could resolve problems using social media.
Where big banks outshine little banks
"Smaller banks, hands down, have higher satisfaction among older customers," Miller said. "But among younger customers, across the board, big banks have higher satisfaction due to technology and the range of products they offer." What's more, Miller noted, "Smaller banks offer more personalized service, bigger banks have better technology."
Bigger banks didn't earn top marks in customer satisfaction in any region, but they were runners-up in some areas. For example, Citibank came in third place in Florida, Wells Fargo came in fifth in the North Central region and Bank of America came in sixth in the Midwest. 
Customer satisfaction isn't everything
The highest-rated banks in the J.D. Power study may not be the best option for your finances, as their lower interest rates and higher fees can wind up costing you money.
For example, J.D. Power's top-rated BBVA Compass, which earned the highest marks in customer satisfaction in California, pays only 0.05% interest on its ClearChoice Savings account. In contrast, Goldman Sachs Online Savings account — featured in Mic's guide to the top five banks of 2017 — pays rates as high as 1.05% without a minimum balance or fee.  
When it comes to checking accounts, J.D. Power's top-rated Huntington Bank only allows five free ATM withdrawals at non-Huntington ATMs per statement cycle. Meanwhile, Capital One 360 — which we recommend — does not charge ATM fees if you withdraw money from a non-Capitol One ATM, has no fees on foreign transactions and earns 0.2% interest on balances under $50,000. 
So, while customer satisfaction matters, it's also essential to ensure that you compare what you'll pay and what interest you'll be paid so you can make an informed choice about which account is truly best for your wallet. 
Sign up for The Payoff — your weekly crash course on how to live your best financial life. Additionally, for all your burning money questions, check out Mic's credit, savings, career, investing and health care hubs for more information — that pays off.