Conversion therapy would end nationwide under new bill in Congress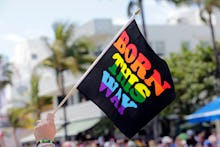 Trying to change someone's sexual orientation could soon become a thing of the past — not to mention illegal. 
This week, Democratic lawmakers introduced the Therapeutic Fraud Prevention Act of 2017, which would allow the Federal Trade Commission to classify practitioners of conversion therapy, a therapy meant to change a person's sexual orientation, as fraudulent. 
About 70 democratic lawmakers, including senator Cory Booker, support the bill, the Washington Post reported. 
According to representative Ted Lieu, the bill says you are a fraud if you "treat someone for a condition that doesn't exist." 
"There's no medical condition known as being gay," Lieu told the Washington Post. "LGBTQ people were born perfect; there is nothing to treat them for. And by calling this what it should be, which is fraud, it would effectively shut down most of the organizations." 
"LGBTQ people were born perfect; there is nothing to treat them for."
Conversion therapy banned in some states
Though conversion therapy isn't banned on the federal level yet, New Mexico recently became the seventh state to ban the practice. Early in 2017, the Texas legislature introduced a bill that would allow conversion therapy practitioners to continue using the method in the name of religious freedom. 
In 2015, the Substance Abuse and Mental Health Services Administration, a federal agency, asked that the practice be banned federally.  
Trump's administration has been plagued with rumors that his cabinet members are fans of the practice. During the election, language from Mike Pence's former state legislative website seemed to show that he advocated rerouting HIV prevention dollars into conversion therapy, though the vice president's office claims that is false. 
"Any assertion that Vice President Pence supported or advocated for conversion therapy is patently false and is a mischaracterization of language from a 16-year old campaign website," Marc Lotter, Pence's press secretary, said in a statement to the Post. "As a candidate for Congress in 2000, the Vice President's website advocated that public funding in the Ryan White CARE Act be directed to groups that promoted safe sexual practices in the hopes of reducing the spread of HIV."
Secretary of Education Betsy DeVos also defended herself against accusations of her supporting conversion therapy, even though she and her family had strong financial ties to several groups that advocated the orientation-changing practice.