'Call of Duty: WW2' Multiplayer Beta: "Headquarters" details and private beta before launch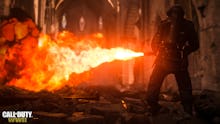 We got to see 2017's Call of Duty on Wednesday, marking the series' grand return to the second World War. In true COD fashion, Call of Duty: WW2 will have a fully featured multiplayer mode, which we'll later get a sneak peak of in a closed beta. We have the first details courtesy of GameSpot.
Call of Duty: WWII multiplayer private beta coming prior to launch
The biggest addition to multiplayer so far is Headquarters, something of a social space to spend time in outside of multiplayer matches. It remains to be seen how comprehensive this is, but we'll hopefully be able to dance on top of buildings, like in the Tower in Destiny. 
Other than that, War Mode sounds like a Call of Duty answer to Battlefield 1's Operations. You'll participate in real WWII battles and fight to complete presumably real objectives based on which team you're on. You'll choose different divisions to join with different roles in the fight. Operations was one of the best parts of Battlefield 1, so a Call of Duty equivalent could be cool.
If you want to get a sneak peak at the multiplayer before the game comes out, you can pre-order now for access to a closed beta. The start and end dates of the beta have yet to be disclosed. Sledgehammer Games will show off the game's multiplayer mode at E3 in June. Call of Duty: WWII comes out on PlayStation 4, Xbox One and PC on Nov. 3.
More gaming news and updates
Check out the latest from Mic, including our deep dive into how female Overwatch players are dealing with online harassment, an article about a fan movement advocating for more same-sex romance options in Mass Effect, a personal essay to JonTron from another Iranian-American and an article looking at cultural diversity in Overwatch.