'Dear White People' release date: When to watch Netflix's latest original series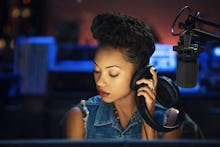 For those who have already made it through recent Netflix releases like Santa Clarita Diet, Iron Fist, 13 Reasons Why and possibly even Girlboss, you don't have to wait much longer for the streaming service's next original series. Netflix will drop Dear White People, a show based on the film of the same name written by Justin Simien, on Friday.
The series, which is garnering incredibly strong reviews — you can read Mic's take here — was also cowritten by Simien and stars Logan Browning and Brandon Bell. Dear White People follows a group of students of color who attend Winchester University, a fictional and predominantly white Ivy League school, and explores racial and social tensions through satire along the way. 
Like prior Netflix series, it's expected Dear White People will hit the streaming platform around 3 a.m. Eastern on Friday. So if you want to get a head start on your friends, be prepared for an early morning — or, well, a really late night. For more on the new Netflix series, here's the official synopsis: 
Set against the backdrop of a predominantly white Ivy League university where racial tensions bubble just below the surface, Dear White People is an hilarious send-up of "post-racial" America that weaves together the universal story of finding one's own identity and forging a wholly unique path. The satirical series — which picks up where the acclaimed 2014 film by the same name left off — follows a group of Winchester University's students of color as they navigate a diverse landscape of social injustice, cultural bias, political correctness (or lack thereof) and sometimes misguided activism in the millennial age. Through an absurdist lens, Dear White People utilizes biting irony, self-deprecation and sometimes brutal honesty to hold up a mirror to the issues plaguing society today, all the while leading with laughter.
You can also check out the series official trailer below:
Mic has ongoing coverage of Dear White People. Please follow our main Dear White People hub here.