What's happening in Venezuela? Here's what's behind the country's violent protests.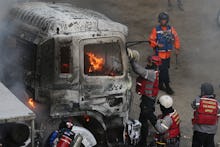 Venezuela announced on Wednesday it will exit the Organization of America States. This comes after Venezuela was criticized in a 75-page report produced by the OAS that suggested the suspension of the country.
The OAS is a regional agreement that brings its 35 member states together with the mission of establishing "an order of peace and justice, to promote (member countries') solidarity, to strengthen their collaboration and to defend their sovereignty, their territorial integrity and their independence."
Venezuela's exit is another piece in an overall slide toward authoritarianism amid public unrest in the country. 
In recent decades, Cuba was the only country in the hemisphere to not be included in the OAS. But, unlike Venezuela, Cuba was expelled from the OAS.
An emergency OAS meeting will be held to discuss the political unrest in Venezuela. OAS Secretary-General Luis Almagro claims the country has "deteriorated into a full-scale dictatorship."
Fears grow that President Nicolás Maduro has become a dictator
During the final week of March, the Venezeulan Supreme Court essentially nullified the role of its Congress by directly assuming its role in granting President Nicolás Maduro the ability to create joint oil ventures.
This comes after Maduro's opposition won a majority in its Congress.
Protests in the country have turned violent with a reported death toll of almost 30 so far. Citizens are protesting, among other issues, the indefinite suspension of elections that were scheduled to commence in December of last year. 
Citizens are also being denied basic necessities as the country faces shortages of food and medicine.
Per NPR,
"[T]he Maduro government canceled a recall referendum that could have removed the president from power, and it has suspended voting for everything from city councils and labor unions to student governments at public universities."
The government's attempt to dismiss the criticisms of the OAS about its subversion of democracy and human rights concerns may prove difficult, since the country cannot immediately leave.
According the New York Times, an OAS spokesperson said that Venezuela must wait two years to withdraw and pay off its $8.7 million debt.
Foreign Minister Delcy Rodriguez claims the OAS has tried "intervene and take custody of our country," adding that it "will never happen."