'Mario Kart 8 Deluxe' Release Time: When will the download hit the Nintendo Switch eShop?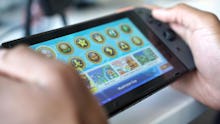 The Mario Kart 8 Deluxe release date quickly approaches — but what's the release time? By now, if you're eagerly awaiting the Nintendo Switch game, you've probably read up on all the best tricks — like dodging spiny shells and how to unlock every last character. Even though your technique is in tip-top shape, you still may be wondering one of the most important details regarding Mario Kart 8 Deluxe: When can you download the game? What time will it release? Here's what you can expect.
Mario Kart 8 Deluxe release time: When will the game be available on the eShop?
What we know for sure is that the game will come to the Nintendo eShop on April 28. As for what time, the best guess is noon, Eastern time. We've reached out to Nintendo for an official time and will update this post when we learn more.
Mario Kart 8 Deluxe on the eShop will change from "coming April 28" to linking to a purchase page when the game becomes available. Traditionally, eShop games hit the store at 12 p.m. Eastern. The same has been true for Switch games.
The latest game to come to the Switch eShop, Kamiko, wasn't available for purchase until after 12 p.m. on its Thursday, April 27, release day. We expect Mario Kart to come to eShop at the same time.
Can I pre-download Mario Kart 8 Deluxe on Switch to play it immediately at midnight?
But there is something to be said for Nintendo saving midnight releases on the eShop for their most important games. Games that Nintendo allows you to buy and pre-download are playable starting at midnight, Eastern time. Unfortunately, the Switch doesn't allow gamers to pre-buy titles, only offering the option to add to your wish list. 
Theories of a 12 p.m. Eastern release time aside, make sure to check the Switch eShop at midnight anyway should the game go live early.
Check out more Mario Kart 8 Deluxe news, tips and tricks
If you're anxious to get racing in Mario Kart 8 Deluxe, check out our video gameplay of the first 20 minutes of the game and find out the eight characters the game needs ASAP. Check out the best techniques to race with and learn how you can buy the game bundled with the console, including one bundle from Nintendo. Find out if we're expecting DLC and our initial impressions of the new console it's on from back in January. Or you can play Mario Kart 64 on a newer console instead, if you're looking for some nostalgic throwback. And when all else fails, back that thang up.