'Dear White People': What episode did Barry Jenkins direct?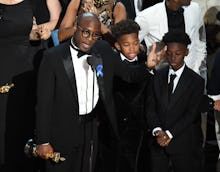 Dear White People, is set to stream on Netflix Friday but is already receiving near-universal acclaim ahead of its release — you can read Mic's review here. According to Netflix, Dear White People "follows a group of Winchester University's students of color as they navigate a diverse landscape of social injustice, cultural bias, political correctness (or lack thereof) and sometimes misguided activism in the millennial age."
The series, itself a followup to the film of the same name by Justin Simien, consists of 10 episodes, one of which is directed by Barry Jenkins, the Academy Award-winning writer and director of best picture-winner Moonlight. And this is rather exciting considering it will be Jenkins' first directorial outing since Moonlight. It is also only the second television episode he has ever directed. 
So, it should be interesting to see how Jenkins' style translates to television in the fifth episode of Dear White People. (Editor's note: At the time of publication, IMDb listed Jenkins as directing the sixth episode. That listing later changed. This story has been updated to correctly reflect the episode Jenkins directed.) And for now, fans of the director should enjoy Jenkins' take on the Netflix series, because it is uncertain when exactly we will see his next film. 
While Jenkins is attached to a few projects, as of this writing, none have progressed to the point of securing a release date. 
April 28, 2017, 7:45 a.m.: This story has been updated.
Mic has ongoing coverage of Dear White People. Please follow our main Dear White People hub here.