In a scathing tweet, Sen. Chris Murphy dismantled the new Trumpcare plan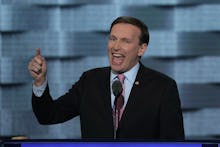 Sen. Chris Murphy (D-Conn.) tweeted a scathing critique of House Republicans' amended health care bill on Thursday, saying Speaker Paul Ryan, who suggested Americans with pre-existing conditions would "better off" under the revised health care plan has it all wrong. 
In response, Murphy issued a biting tweet, clarifying Ryan's apparent definition of "better off."
"Speaker Ryan dictionary, 3rd edition. Better off /bedder/ /af/ adj. 1. dead," Murphy tweeted.
On Thursday, House Republicans released changes to the American Health Care Act — the GOP's proposal to repeal and replace the Affordable Care Act, which was pulled before voting could take place back in March due to lack of Republican support.
The proposed changes to the AHCA include allowing states to waive two crucial provisions of the ACA, informally known as Obamacare. The GOP bill would make room for insurance companies to charge sick Americans more for coverage, as well as drop coverage for Essential Health Benefits, which includes hospitalization and prescription drugs.
Republicans hope the amended bill will woo members of the House Freedom Caucus, who opposed the initial version, to vote for the current bill.
However, in the process, Republicans alienated moderate Republicans, who could also scuttle the bill's passage.