What channel is the 2017 White House correspondents' dinner on? Here's what to know.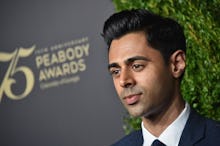 Anybody excited for a night filled with jokes, and maybe a bit of politics, probably will want to be watching the White House corespondents' dinner on Saturday, April 29. While attendance will be a bit lighter than usual — Donald Trump is set to be the first president in 36 years not to attend — the dinner should still provide plenty of entertainment, while honoring journalists.
The 2017 dinner will be hosted by The Daily Show's Hasan Minhaj, a comedian who has never shied away from taking on the president. For those excited to see what Minhaj has in store for the guests in attendance, you should make sure you are by your television at 9:30 p.m. on Saturday. And while you're at it, you might as well have that television tuned to the correct channel — that being C-SPAN. 
At the 2017 dinner, journalism awards will be presented to Greg Jaffe and David Fahrenthold of the Washington Post and Politico's Edward Isaac-Dovere.
Mic has ongoing coverage of the White House Correspondents' Dinner. Please follow our main White House Correspondents' Dinner hub here.