'Mario Kart 8 Deluxe' Download Size: How big is the eShop game on Nintendo Switch?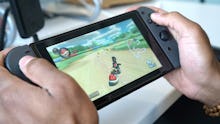 The Mario Kart 8 Deluxe release date is incoming, and that means finally another download for your Nintendo Switch. Though with only 32GB, it's important to carefully consider which games are bought as digital downloads and as physical cartridges. A physical copy of Mario Kart 8 Deluxe may be cheaper if you get Amazon Prime or Best Buy Gamer's Club discounts, but if you plan on going all-digital, here's how much storage you can expect to use up for MK8 Deluxe.
Mario Kart 8 Deluxe download size: How big is the game's file?
According to Nintendo's eShop, Mario Kart 8 Deluxe weighs in at 6.7GB on the Switch. Or that's how much free space you'll need on your console, at least. If you've already somehow run through the 32GB that comes with the console, you'll want to invest in a micro SD card for extra space.
Make sure you've cleared the appropriate amount of space by the Mario Kart 8 Deluxe release time.
Check out more Mario Kart 8 Deluxe news, tips and tricks
If you're anxious to get racing in Mario Kart 8 Deluxe, check out our video gameplay of the first 20 minutes of the game and find out the eight characters the game needs ASAP. Check out the best techniques to race with and learn how you can buy the game bundled with the console, including one bundle from Nintendo. Find out if we're expecting DLC and our initial impressions of the new console it's on from back in January. Or you can play Mario Kart 64 on a newer console instead, if you're looking for some nostalgic throwback. And when all else fails, back that thang up.