'NBA 2K16' Error Code efeab30c: How to fix the issue on PS4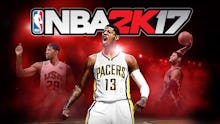 There's another error code floating around for NBA 2K fans on PS4. This one is "efeab30c," and it doesn't appear to be a major issue; 2K Sports has already released a fix for it on its website.
Oddly enough, this error seems to be affecting consumers who are playing NBA 2K16 — not NBA 2K17. Obviously, a lot of fans out there are still playing older installments from the series.
This latest error code is generated when a consumer is attempting to play the game without downloading the most recent update.
NBA 2K16 Error Code efeab30c: 2K Games' solution
Here's what 2K offered as a solution for the aforementioned error code:
Please select the Play Now option and remain on the menu until you see a pop-up message asking you to return to the game's main menu so the update can go into effect. Exactly how long this takes varies, depending on the size of the download and the speed of your internet connection. That said: Once it's completed, you should be able to play without a problem.
NBA 2K has been awash in error codes this year, and while most of them have been minor, the bad news adds validity to the "poor server" rap the successful series has attained over the past several years.
More sports gaming news and updates
Love sports games? Check out more content from Mic, including tips for leveling up your NBA 2K17 MyPlayer, playing quarterback in Madden 17, our review of MLB The Show 17 and the classic Nintendo sports games we want to see on the Switch.