The day of the massive People's Climate March could be the hottest day on record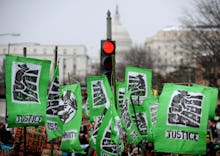 This year, the People's Climate March will bus people from across the country to confront the Trump administration about what they call his "dark and dangerous" vision for the environment. And if they can't get through to President Donald Trump, the climate will make their point for them.
In a stroke of irony that only the natural world could engineer, temperatures the day of the march are expected to reach 92 degrees for Saturday. That's one degree higher than the highest recorded temperature for that date (previously 1974), and a full 19 days ahead of schedule for the average first 90-degree day in the nation's capital.
Given that Trump himself is surrounded by climate change doubters — and has personally called climate change a "hoax" generated by the Chinese — the Trump administration is off to a predictably frightening start when it comes to climate change. 
Trump's advisors recently attended an anti-climate change conference, where attendees floated ideas like rising CO2 levels being good for Earth's growing population, or that climate change consensus is the work of communists.
Over 450 busses will travel from across the country to bring thousands to the march this year, with the intent on surrounding the White House with protesters — organizers are recommending people show up with plenty of water.
The human body, after all, needs preparation for the extra heat, no matter what the Trump administration has to say about it.