United passenger David Dao is getting an undisclosed settlement after dragging incident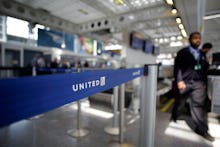 David Dao is heading home with an unspecified sum in settlement money, according to NBC. 
On April 10, video of Dao being dragged off an overbooked United flight went viral. Hours later, a second, bloodier video also leaked online.
According to a statement circulating online, the settlement was negotiated by Thomas A. Demetrio of Corby & Demetrio and Stephen Golan of Golan Christie Taglia and United's legal representation. A condition of the settlement was that it remain confidential. 
In the statement, Demetrio praised United CEO Oscar Munoz. 
"United has taken full responsibility for what happened on Flight 3411, without attempting to blame others, including the City of Chicago," the statement reads. "For this acceptance of corporate responsibility, United is to be applauded." 
A string of bad press followed the Dao incident, including a scorpion falling from an overhead bin and stinging a passenger and the death of beloved Simon the Bunny. 
Consumers made their overwhelming distaste for United's initial response known on social media. Even the dictionary got in on the joke, throwing some serious shade the airline about its use of the word "voluntary."