Lea Michele's 'Places': Download and streaming options for new album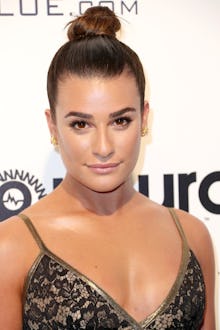 Singer and actress Lea Michele returns with her sophomore album Places on Friday. Michele recorded her first album, Louder, while simultaneously playing Rachel Berry on Glee — but this time around, she was able to focus all her energy on her own music. 
Download Places on iTunes here. Stream Places on Spotify here.
In January, Michele chatted with Billboard about the making of Places. The songstress looked to her idols for inspiration in creating the sound she strived for on the album. 
We have two songs that veer a little bit more in the pop direction, but for the most part, I sat back and listened to all of the songs that I grew up listening to, and most of them were Celine Dion, four-minute-long vocal Olympics. This is a vocal album, and there are definitely love songs in there, but there's also a sense of freedom. I went back and listened to all of the divas that I loved, and tried to find how that music resonates for me in 2017.
Michele has dropped several singles ahead of the album's official release, showing off her powerful vocals on "Getaway Car," "Run to You," "Anything's Possible" and "Love Is Alive." Michele, whose late boyfriend and Glee costar Cory Monteith died in July 2013, also sings about losing someone close to her on the final track "Hey You."
"At the end of the day, the song is pretty specific, and people are gonna make of it what they want," Michele told PrideSource in April. "But I wanted to make a song about loss that wasn't necessarily sad. I wanted to show this beautiful moment, and there's a little bit more of a deeper story that goes with it that I talk about in my concert."
Check out the track list from Leah Michele's Places, via iTunes, below:
1. Love Is Alive
Mic has ongoing music coverage. Please follow our main music hub here.