A look back at Donald and Melania Trump's 9 — yes 9 — Met Gala appearances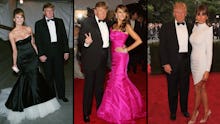 It may seem hard to believe, but before the 2016 election, before even Barack Obama ever took office, Donald Trump and his wife Melania were inescapable, almost as inescapable as they are now.
In the mid-2000s, the Trumps were red carpet staples, flashing their smiles in whatever direction the cameras were. So, of course, they loved the Met Gala, which gave them an opportunity to get photographed a million times and present themselves as part of essential New York City culture. 
Between 2004 and 2012, they appeared on the Met Gala's red carpet nine times. That's more than Rihanna, who's appeared just five times. So that says something. 
With the Met Gala on Monday, we decided now would be a good time to look back at how the Trumps dressed at all of these events, especially given the fact that the couple looks completely different now, with Donald Trump favoring a tuxedo over his ultra-large suits and Melania Trump favoring things like hot-pink satin gowns and gold, sparkly minidresses. 
2004 
For their Met Gala first appearance together in 2004, where the theme was fashion and furniture of the 18th century (what a doozy), the Trumps, who were recently engaged, showed up in matching all-black attire, with Donald in a standard tuxedo and Melania in a black satin gown with cutouts in the middle that look a bit ... corseted? Cinched? Something? 
They both look so different at their first Met Gala together, don't they? Her hair was black. His skin was not orange. It was a time when Melania Trump was technically still Melania Knauss — but Donald Trump was, well, definitely Donald Trump. 
We don't really want to talk about it. 
2005 
With the 2005 Met Gala theme of Chanel, Melania Trump wasn't messing around, wearing a massive black satin Alexander McQueen dress with white tulle at the bottom, complete with a diamond broach and a gigantic beehive. 
Subtle it was not. 
Trump, as per usual, wore a tux. 
2006 
Oh look, one of Barron's first red carpet appearances. All joking aside, this was Donald and Melania at the 2006 gala, for which the theme was British fashion, and to this event, Donald was in his standard tux while Melania showed up in a white empire-waist column dress, with a black band that highlighted her pregnant belly. 
Also, check out that bling. 
2007 
To the 2007 Met Gala, for which the theme was French designer Paul Poiret, the Trumps showed up like this: Melania in a short, shiny, fringe-y dress by Roberto Cavalli and Donald in what looks like exactly the same tux as the year before ... and the year before that ... and the year before that. 
2008 
The theme for the 2008 Met Gala was fashion and fantasy superheroes, so the Trumps decided to come dressed as the 2008 version of Ken Sr. and Barbie, with Melania wearing a hot-pink sleeveless gown by Vera Wang and plenty of bling. 
Comparing this outfit to what she wears now — which is usually feminine midi dresses and suits — is pretty unbelievable, but at least this look is exciting. 
2009
These are much subtler looks on Melania and Donald, with both of them wearing low-profile black, her in a Dolce & Gabbana dress and him in that suit. Given the theme of this 2009 gala was supermodels — a theme Melania could have had a bunch of fun with — this was kinda surprising. 
2010 
Ah, but in 2010, for the gala celebrating American women, they were back in their more typical head-turning garb, with Melania in a deep-blue satin dress with draping on the bottom by Christian Siriano, a designer who has now vowed to never dress her as first lady. As for Melania's hair, it was in a much smaller beehive than 2005. And as for Trump, well, is that really the same suit? 
2011 
Well, in 2011, it was definitely the same suit as 2010, but Melania decided to have a bit of fun with this Alexander McQueen-themed Met Gala. To this one, she wore a beige bedazzled, sleeveless Reem Acra dress and held tightly onto a gold McQueen bag. 
When Elle ventured into her closet in 2012, Melania revealed that McQueen is one of her favorite designers, picking out her 2005 Met dress and a clutch by him as some of her favorite pieces. 
2012
What outfits to go out on, you know?
For the Trumps' last Met Gala (for now), Donald wore that damn suit and Melania wore a intergalactic number covered in white sequins and pointed shoulder pads. 
The night's theme was Schiaparelli and Prada, which is a brand known for being outlandish, but still, wow. 
Although the Trumps certainly won't be at this year's event, that doesn't mean that politics and Trump talk won't find their way onto the Met Gala red carpet, either.