Tech companies' unfair work environments could cost them more than $16 billion annually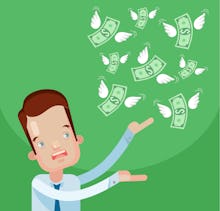 If creating an inclusive work environment doesn't appeal to you on a moral level, perhaps a new survey from the Kapor Center for Social Impact might entice you on a financial one.
The Tech Leavers study, conducted in collaboration with Harris Poll and published on Thursday, polled a nationally representative sample of 2,006 adults who had left their job in a tech-related industry or function in the last three years. The study found that 37% of respondents left a company because of unfairness or mistreatment in the workplace, with the cost of attrition amounting to an average of $144,000 per employee — which, the survey estimated, could cost individual companies roughly $27 million in annual replacement expenses. For the tech industry as a whole, the number could total $16 billion.
Studies show diversity is good for a company's bottom line, but the Tech Leavers survey drives home just how much companies sacrifice by failing to implement a diverse and inclusive work environment.
The $16 billion figure took into consideration the costs of lost productivity, recruiting costs and salary, and then factored in turnover, the average salary for engineers and the number of engineers large tech companies employ.
"There is a high cost to bad culture, and this is a self-inflicted wound," the report read.
The survey found that unfairness or mistreatment played a bigger role in an employee's decision to leave a company than did actively finding better job opportunities, feeling dissatisfied with the work environment, getting poached by another employer or being unhappy with their work duties or responsibilities. 
And according to the survey, 62% of respondents said they "would have stayed if their company had taken steps to create a more positive and respectful work environment" and 57% "would have been likely to stay had their company had taken steps to make the company culture more fair and inclusive."
While tech companies have spent an exorbitant amount of money on diversity and inclusion initiatives, the results have proven unsuccessful. Year after year, tech company diversity reports reveal marginal improvements — that is, if things didn't get worse.
What's the solution?
In its report, the Kapor Center recommended a comprehensive diversity and inclusion strategy that starts at the top, meaning company leadership needs to pave the way in such efforts. A full breakdown of the strategies can be found in the full report.
"Bottom line: Diversity in tech matters — for innovation, for product development, for profits, for meeting future workforce demands and for closing economic and wealth gaps," the report read. "But unfairness in the form of everyday behavior (stereotyping, harassment, bullying, etc.) is a real and destructive part of the tech work environment, particularly affecting underrepresented groups and driving talent out the door. With a concentrated focus on building inclusive workplace cultures, tech can save billions of dollars in financial and reputational costs, keep great talent and finally make progress on its diversity numbers."