Mic adds three veterans of Breaking News, Spin & Politico to newsroom in news, entertainment & media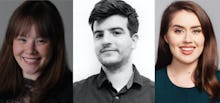 Mic announces three additions to its newsroom team in Stephanie Clary, Kyle McGovern and Kelsey Sutton.
Clary joins Mic as director of newsgathering. In this role, she will spearhead a comprehensive strategy for producing news content across all platforms and surfaces — from written and video, to push alerts, live video and newsletters. She will work closely with the News, Audience, Direct and video teams to connect daily and breaking news coverage more strongly to audiences across Mic products.
While at Breaking News, Clary led a team of editors across the globe, from Seattle to London, covering real-time news with a mobile-first mission. She worked closely with the creative development team to build breakthrough product features that emphasized user experience. Previously, she was a producer at the Seattle Times, and she shares a 2010 Pulitzer Prize for breaking news with the Times staff.
McGovern joins as the first editor of Hype, Mic's new arts and entertainment channel. In this role, Kyle will help sharpen Hype's focus and draw new writing talent.
McGovern was previously an editor at Spin and has held an editorial fellowship through the New York Times. He has been published in Vice, Pitchfork, Billboard and Time Out New York and earned a master's degree from the CUNY Graduate School of Journalism.
Sutton joins Mic as a staff writer focusing on media and politics. Sutton was formerly a media reporter and a breaking news writer at Politico. She'll be Mic's first reporter dedicated to covering the media.
"Stephanie, Kyle and Kelsey are all critical hires for Mic," said Kerry Lauerman, Executive News Director, Mic. "We expect each to help up expand into brand new areas of critical interest to Mic's audience."
Clary and McGovern will report to Lauerman. Sutton will report to politics editor Ali Gharib.