Battlefield 1 Patch 1.08: Spring update patch notes include the addition of much-wanted Platoons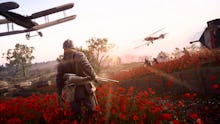 Battlefield 1 has just received a new update, and patch 1.08, also known as the Spring Update, has brought with it some great new features, new weapons, bug fixes and balances across the board. The major change coming with update 1.08 is the new Platoons feature that provides players tools that enable better support for clans. We've hit some of the high points of the Battlefield 1 1.08 patch, and you can find more at DICE's Spring update full patch notes.
Battlefield 1 Spring update Patch 1.08: How do Platoons work
The new Platoons in Battlefield 1's Spring update work much the same as a typical clan structure. The player who starts a platoon will be given the rank of General within that platoon. As General, you can determine all aspects of your platoon, including whether the platoon is open, apply-to-join or closed. You can also choose a tag for your platoon that will appear at the beginning of each member's name, and assign an emblem to the platoon.
Generals can also appoint others to ranks. While there can be only one General, Colonels can be selected which have most of the powers of a General. The next rank down from Colonel is Lieutenant, who can only accept or reject Platoon applications and link rented servers. The initial position upon being accepted or joining a Platoon is Private, which has no access to administrative tools.
You can choose when and where to represent your Platoon, and a toggle will allow you to switch the Platoon tag on and off in front of your in-game name. If you're playing with your Platoon, if all members of a squad are of the same Platoon, the squad will then carry that Platoon's name. Also, if your Platoon contributes the most to a flag capture, a pennant bearing your Platoon emblem will be added to the flag pole.
Battlefield 1 Spring update Patch 1.08: Medic revive intent
Anyone who plays multiplayer in Battlefield 1 knows how frustrating it is to see medics running around nearby refusing to revive you. Likewise, as a medic it's incredibly frustrating to rush toward a downed soldier to revive them, only to have them skip their revive timer and respawn.
Patch 1.08 brings a new feature designed to alleviate some of that frustrating: medic revive intent. Medics can now "spot" a downed comrade, and it will let the fallen soldier know that a nearby medic intends to revive them.
Battlefield 1 Spring update Patch 1.08: Everything else
DICE has added four new weapons for Battlefield 1, one for each class. There are also 19 new ribbons and five more dog tags to earn. There is also an enormous amount of bug fixes and balances that you can find in the full patch notes. 
More gaming news and updates
Check out the latest from Mic, including our deep dive into how femaleOverwatch players are dealing with online harassment, an article about a fan movement advocating for more same-sex romance options in Mass Effect, a personal essay to JonTron from another Iranian-American and an article looking at cultural diversity in Overwatch.