Alexander Acosta confirmed as labor secretary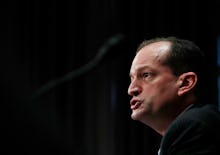 On Thursday, the Senate confirmed former U.S. attorney Alexander Acosta to head the Labor Department by a 60-38 vote. Acosta completes President Donald Trump's cabinet just two days ahead of his 100 days in office.
Former Republican member of the National Labor Relations Board, Acosta was Trump's second choice for labor secretary. His first choice, fast-food executive Andrew Puzder, dropped out in February. Trump nominated Acosta the next day.
Acosta has been seen as a less controversial choice than Puzder, who was attacked amid unsavory business practices and spousal abuse accusations against him. But Democrats still voiced concerns over whether Acosta was the right fit to protect millions of American workers and employers.
"The Department of Labor is an agency whose job it is to stand up for the workers in this country, their safety, making sure they get the pay they've earned,"  Sen. Patty Murray (D-WA) told the Hill. "I just do not feel comfortable Mr. Acosta is going to stand up to a Trump administration that, in my opinion, has not done that."