Donald Trump thought being president would be "easier"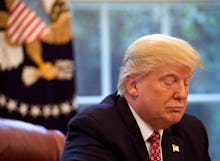 President Donald Trump reflected on his first 100 days in office in an interview with Reuters, during which he expressed that he — somehow — believed being president of the whole United States would be "easier" than running a real estate and steak empire.
"I loved my previous life. I had so many things going," Trump told Reuters. "This is more work than in my previous life. I thought it would be easier."
Trump — who called the 100 day benchmark a "ridiculous" standard for judging his performance — has had a rocky start to his presidency. His first stretch in office has been characterized by high profile failures on health care and his travel bans, along with infighting among staff and large-scale protests.
Rather than mull over all that, Trump continued to obsess over his upset victory over Hillary Clinton during the Reuters interview, pausing a discussion about Chinese President Xi Jinping to hand reporters a "final map of the numbers" from his November win.
"It's pretty good, right?" Trump said. "The red is obviously us."
Reuters also reported Friday that Trump misses driving, continues to seek "advice and positive reinforcement" from old colleagues and friends outside the White House and is surprised by how little privacy he has now — even when compared to his previous life as a reality television star.
"You're really into your own little cocoon, because you have such massive protection that you really can't go anywhere," Trump said.