Sean Hannity warns of "end" of Fox News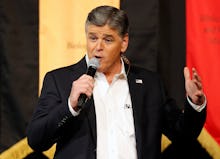 Amid shakeups at the network, pundit Sean Hannity warned of the "total end" of Fox News in a tweet Thursday.
The tweet came in response to a Daily Intelligencer story in New York magazine that suggested Bill Shine — the co-president of Fox News — may be losing support among the network brass and could be on his way out.
Hannity claimed that someone "HIGH UP AND INSIDE FNC" was working against Shine. 
Hannity also tried to get a hashtag going in support of Shine — it took a couple of tries.
News of the potential shake-up comes shortly after the network was forced to can its signature host, Bill O'Reilly, amid backlash over his sexual harassment scandal. Fox News CEO Roger Ailes was also forced to resign in 2016 after sexual harassment allegations.