Ja Rule's Fyre Festival is an expensive Instagram "cool kids" train-wreck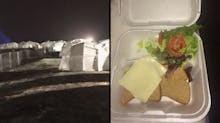 The pricey Fyre Festival, a two-weekend music festival that began Friday in the Bahamas, has descended into apparent chaos due to what appears to be poor planning and broken-down infrastructure. And festival goers, some of whom spent thousands of dollars for a ticket, are seriously pissed-off.
The Fyre Festival website promised guests a "a cultural moment created from a blend of music, art, and food." 
According to the website, festival-goes would "be flown roundtrip on a custom, VIP configured Boeing 737 aircraft between Miami International Airport and Exuma International Airport on Great Exuma. Guests will be staying in modern, eco-friendly, geodesic domes." Day passes were $450 each, according to the website. A luxury villa cost $4,395 a person. 
Under each package is a disclaimer: "Prices will increase soon."
But it turns out that when people showed up for the festival, it was nothing like what had been promised. The BBC reported that, according to people at the festival, the event is a "complete disaster," with little security and no organization. At least one musical act that was scheduled to play the festival has already canceled — Blink 182 said on Thursday that it would no longer perform.
The #FyreFestival hashtag on social media is filled with reports of meager food and "mass chaos." 
It appears that people are already rushing to leave the festival — but tweets from the local airport appear to show crowds that have been trying to leave for hours now. 
A tweet from the official twitter account for the Bahamas apologized for the debacle and said that representatives from the Ministry of Tourism were on hand to help the "organization of a safe return" for festival goers.
The actual images from the festival are dramatically different from what festival organizers and paid "influencers" had promised. According to Vanity Fair, the festival was organized by rapper Ja Rule and his "tech partner" Billy McFarland, the people behind booking-startup Fyre Media.
According to Vanity Fair, organizers had "personally invited 400 influencers in various sectors." Models Bella Hadid, Emily Ratajkowski and Hailey Baldwin appeared in a photo shoot that was meant to generate hype for the festival.
Reality television personality and social media super-star Kendall Jenner also hyped the festival on Instagram, saying "So hyped to announce my G.O.O.D. Music Family as the first headliners for @FyreFestival. Get tix now at fyrefestival.com. VIP access for my followers ... use my promo code KJONFYRE for the next 24 hours to get on the list for the artists and talent afterparty on Fyre Cay. #FyreFestival."
But now, on the festival's first day, attendees are already speculating that the whole thing will be canceled. Earlier this month, organizer Ja Rule tweeted out "In two weeks we kick off the first ever Fyre Festival hope y'all ready for the madness!!!" — and it seems like "madness" is a pretty apt summation of what's happened so far.
April 28, 2017, 10:24 a.m.: This story has been updated