Katy Perry and Migos lyrics: Every verse to new song "Bon Appétit"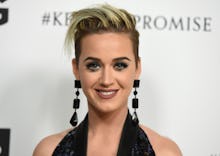 Katy Perry and Migos are serving up seduction on their new collaboration "Bon Appétit." The pop-dance track is the latest single from Perry's forthcoming album KP4, which doesn't yet have a release date. On the track's cover art, Perry's face is photoshopped onto a tray of fruit, with each of the Migos members grabbing their own servings. This is not the first time Perry has teamed up with a hip-hop act, as she brought on rapper Juicy J for her 2013 single "Dark Horse." Listen to the new track below:
Here are all the verses to Perry's new single "Bon Appétit," featuring Migos, via Genius:
[Chorus: Katy Perry]
Mic has ongoing Katy Perry coverage. Please follow our main Katy Perry hub here.