Joe Biden wants male college students to "change the culture" around campus assault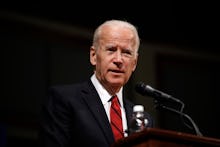 Joe Biden really, really, really doesn't have time for men on college campuses who are complicit in rape culture.
In a speech at George Mason University on Wednesday for his "It's On Us" campaign, the former vice president spoke candidly to male students about consent, sexual assault and their role in holding other men accountable.
"Guys. A woman who's dead drunk cannot consent," Biden told the crowd. "You are raping her. You are raping her if you cannot say 'it's okay.'"
He continued, "Consent requires affirmative consent. And if you're too drunk to be able to consent, it is not consent."
Biden launched the "It's On Us" campaign with then-President Barack Obama in 2014 when he learned of the sexual assault epidemic on college campuses. Since leaving office, Biden has continued to speak out about the issue, most recently launching a PSA video tackling the way rape culture pervades everyday conversations.
The former vice president also touched on this issue in Thursday's speech, urging men to shut down so-called "locker room talk" as soon as they hear it.
 "You cannot let that kind of talk be bred on the college campus," he said. "You've got to do what I've done, what my father taught me. Turn and say, 'You're a horse's tail.' Only a little more graphic."
"Change the culture," Biden said. "You can do it."
Correction: April 28, 2017