Nintendo 2DS XL: Price, release date and what to know before you buy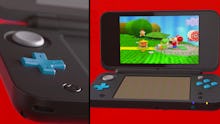 As if Nintendo didn't have enough confusingly titled handhelds to puzzle young gamers' parents — like the New Nintendo 3DS XL and the Nintendo 2DS — it's just announced another model to its lineup: The New Nintendo 2DS XL. Tongue-tied yet?
In a short trailer, Nintendo announced all sorts of pertinent details — like its price, release date and features that set it apart from the rest of its handhelds. Here's what you need to know.
What's different about the Nintendo 2DS XL? Three big takeaways.
1. Unlike the standard 2DS — which is a flat, tablet shape — the 2DS XL has a folding, clamshell design.
2. New Nintendo 2DS XL is just as powerful as the Nintendo 3DS XL. So, if having the 3-D visual effect of the 3DS XL isn't important to you, the 2DS XL sounds like a cheaper alternative.
"The system is lighter but still packs the same power as New Nintendo 3DS XL, and has built-in NFC support for amiibo cards and figures," according to Nintendo's press release. "It can play the massive library of quality Nintendo 3DS, New Nintendo 3DS and Nintendo DS games in 2D."
3. A handful of new games will be coming out on the day of the 2DS XL's release or in short proximity to it. They are: 
• Fire Emblem Echoes, out May 19
• Hey! PIKMIN, out July 28 — the day 2DS XL is released
• Miitopia, out July 28
Nintendo 2DS XL: price, release date, trailer
The New Nintendo 2DS XL will be available July 28 for $149.99. For now, it looks like the only color scheme is a black and turquoise combination, which you can check out in the 2DS XL's announcement trailer below.
More gaming news and updates
Check out the latest from Mic, including our deep dive into how female Overwatch players are dealing with online harassment, an article about a fan movement advocating for more same-sex romance options in Mass Effect, a personal essay about JonTron written by a fellow Iranian-American and an article looking at cultural diversity in Overwatch.