What's new on Netflix? Here are the best movie and TV additions for May 2017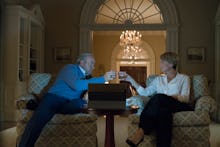 Fans of all things movies and television may want to invest in some sort of a calendar system, because May is nearly here, and the entertainment options will be plentiful. 
In addition to a slew of major blockbusters hitting theaters — Guardians of the Galaxy Vol. 2, Alien: Covenant and Pirates of the Caribbean: Dead Men Tell No Tales to name a few — Netflix will once again be refreshing its library. And the incoming titles are nothing short of exceptional. 
So, get out those calendars and start organizing your time, because once May hits you may be couch bound for quite awhile. Here are some of the best movies and TV series coming to Netflix in May. 
Forrest Gump (May 1)
Netflix is not messing around. One of the first movies to drop will include arguably the best acting performance from the '90s — Tom Hanks as Forrest Gump. Forrest Gump was nominated for a staggering 13 Academy Awards, winning six, including best picture and best director and best actor.
Sense8 season two (May 5)
Lana and Lilly Wachowski may be known to most as the creators of The Matrix, but they have found some success in episodic television as well. In 2015 Netflix released the Wachowskis' ambitious science fiction series, Sense8. The series follows seemingly random individuals, all of whom share a mental and emotional connection. 
The first season received a mixed response from critics, but was extremely well received by general audiences. And in 2016, the Sense8 Christmas special garnered more universal support, no doubt increasing anticipation for the series' official second season. Season two will drop May 5. 
Master of None season two (May 12)
Another popular Netflix series set to return in May is the Emmy Award-winning Master of None, which is created by and starring Aziz Ansari. The first season of Master of None was essentially universally acclaimed. Out of 55 reviews on Rotten Tomatoes, zero of them are negative. 
While the response to season one sets lofty expectations for Master of None's sophomore outing, there is really little reason to assume the series will not live up to the hype. We'll see for sure on May 12. 
Sherlock season four (May 15)
For those that were not able to catch Sherlock's latest season, your time for redemption has come. The fourth season of the modern take on Arthur Conan Doyle's classic literary creation will hit Netflix on May 15. And season four is not one to miss. Not only are several questions from the prior three seasons answered, but we are also introduced to not one, but two of Sherlock's most dangerous enemies yet. 
Unbreakable Kimmy Schmidt season three (May 19)
Netflix's Unbreakable Kimmy Schmidt will return for its third season on May 19. The first two seasons of the Tina Fey-created series were widely acclaimed — season one garnered a 95% on Rotten Tomatoes, while season two stepped it up to 100%. And there's no reason to believe the third season will be any less strong. 
The series has been nominated for an Emmy for best comedy series two years running, and it is easy to see why. Between Ellie Kemper as Kimmy, Tituss Burgess as Titus and Jane Krakowski as Jacqueline, not to mention a slew of exceptional guest stars, there is frankly too much acting enthusiasm not to enjoy the show. 
War Machine (May 26)
Netflix has not been shying away from making big investments in original films. Will Smith's Bright was purchased for $90 million and Martin Scorsese's The Irishman is budgeted at $100 million. But before those two films are released on the streaming platform, Netflix will debut Brad Pitt's War Machine. In addition to Pitt, War Machine, which is set during the war in Afghanistan, stars Academy Award-winner Ben Kingsley, Power Rangers' RJ Cyler and That '70s Show's Topher Grace.   
House of Cards season five (May 30)
Here comes the big one. Netflix's House of Cards is arguably the series that proved that streaming-only episodic television could compete against major networks and premium cable channels. And boy has it. The political drama, starring Kevin Spacey as now-President Frank Underwood, has been a bona fide hit. Both Spacey and co-star Robin Wright have taken home Golden Globes for their respective performances. 
Doctor Strange (May 30)
Netflix will continue to reap the rewards of its deal with Disney, as the latest Marvel blockbuster, Doctor Strange, will hit the streaming platform on May 30. This is the second Marvel film, after Captain America: Civil War, to go straight to Netflix instead of having its post-release on a premium channel like HBO or Starz. 
Doctor Strange was yet another hit for Marvel, as the Benedict Cumberbatch-starring film grossed over $677 million worldwide, while earning a very healthy 90% on Rotten Tomatoes. And the film serves as yet another important piece of the Avengers: Infinity War puzzle, as it introduces the Time Stone, one of the many powerful gems the Mad Titan Thanos is after. 
Mic has ongoing coverage of Netflix. Please follow our main Netflix hub here.