Logic's latest track praises the work of suicide prevention hotlines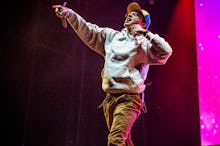 Before Friday, when song titles and hooks were based on phone numbers, it was safe to assume they would be trifles. Logic has changed that game, offering some real insight and knowledge in his latest, "1-800-273-8255." 
The title explains the bulk of it: It's the number to the National Suicide Prevention Lifeline, which Logic partnered with to put together the track. It plays out the drama of a person on the brink, looking at their life and feeling unable to recognize its beauty. "I've been praying for somebody to save me, no one's heroic," Logic raps. "And my life don't even matter/ I know it I know it I know I'm hurting deep down but can't show it."
Guest verses from Alessia Cara and Khalid — two R&B up-and-comers who captured a remarkable amount of emotional depth on their respective most recent projects, Know-It-All and American Teen — help the song's narrative find its necessary turn. It ends on a hopeful note, with the song's character finally having found something worth fighting for.
Logic broke down the track narrative in a press release:
"In '1-800,' we hear a person at the end of their rope who has called the suicide prevention lifeline. Plain and simply; they are ready to commit suicide, feeling they have nowhere else to turn and are expressing the reasons why they wish to commit this act. We then hear words from the perspective of the lifeline operator who in turn gives them many reasons to keep fighting for their life; expressing that this act is a permanent solution to a temporary situation. Finally, we hear the caller express their new lease on life and outlook on a life that they thought was over but had actually been far from it all along."
The song has earned wide praise on social media:
The song follows Logic's "Black Spiderman" and "Everybody," two tracks promoting diversity and racial equality. All three will appear on Logic's Everybody, out May 5.
Mic has ongoing music coverage. Follow our main music hub here.